I heard through the grapevine that one of the many places to see a Bali sunset is at Tanah Lot Temple (a 50 minute drive from Denpasar). Tanah Lot means "small island floating on the sea." Tanah Lot is known for its Hindu Temple on the water.
At lowtide, visitors can ask for blessings right underneath the rocks that support the temple. First step, wash your face with the fresh water running underneath the temple. Afterwards, a hindu priest awaits to sprinkle you with holy water, places a few grains of rice on your forehead and finishes you off with a flower on your ear. (The wash of your face with the water symbolizes your mind being blessed and cleansed).
A few snakes roam around the temple. These snakes symbolize- protectors of the temple from bad influences.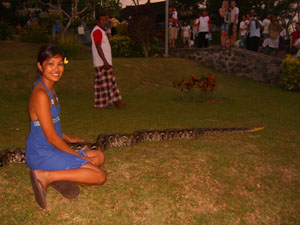 Bail sunset over the Indian Ocean – breathtaking!
http://www.flickr.com/photos/sdizon
Tags:
Indonesia