Jan 3, 2012 – Arenal volcano, La Fortuna area.
After 10 days of mostly relaxing, the Arenal volcano area was where we were going to be active and adventurous. We had a lot of things on the agenda; ziplining, the hanging bridges, an animal conservation center, hot springs, hikes around the volcano.
Things didn't turn out the way we had hoped.
Firstly; it never stopped raining during the first 3 days at Arenal. I was also guilty of bad planning; we stayed at Leaves and Lizards which is the No. 1 rated hotel in the La Fortuna area. I never realized however that the hotel was off the main road and how long & expensive it would be to get off site for activities. This seemed to be a common theme in Costa Rica.
We found out on the first full day; Debbie at Leaves and Lizards (L&L) had arranged for a driver to take us to 1) the Proyecto Asis animal rehabilitation center in the morning and 2) to Eco-Thermales hot springs in the afternoon. Proyecto Asis was a 45 minute drive away and cost between the two of us $90 for a 3 hour tour/volunteering (in which we prepared and fed a few animals; spider and capuchin monkeys, parrots, a macaw, some raccoons and a coati). We then went to the hot springs where we relaxed in the water, had a few pina coladas and had lunch. When the bill came the sum was for $120 for about 3 hours. The arrangements for the driver came out to $70 for the day. Adding it up, we had spent $280 that day. We both found that to be a LOT of money for what we got; both Proyecto Asis and Eco-Thermales were a disappointment. And these are the No. 1 and No. 4 activities in La Fortuna according to Trip Advisor. I had read some people say that the La Fortuna area was overly commercialized; but that experience honestly popped our balloon. We were on vacation for a month – why pay that kind of money for a disappointing experience when we can get better value elsewhere? I had other activities planned for our next destination and I figured we'd get much better value for money (which we did).
Below: Proyecto Asis animal rehabilitation center
Below: Eco Thermales hot springs
A few things; In Costa Rica nothing is as close as it seems. You look at a map and the scale of it and you think something might be 10 minutes to get to. Wrong. The roads are winding and in horrible shape. I would recommend that anyone coming to Arenal (or Costa Rica in general) rent a 4*4. We've travelled to many countries without a car but Costa Rica is the one place we have travelled where we feel it is essential. Transport is also incredibly expensive; taxis here cost more than in Manhattan! I don't think any of the guide books adequately prepares you for this.
We therefore decided to forget about our other planned tours; ziplinning (which we can do anywhere), hanging bridges (which some people have told us is a disappointment), and hiking around the volcano (again, getting there would most likely be really expensive).
We decided to stick to the large grounds of the hotel where we were staying.
Which leads me to my review of Leaves and Lizards.
L&L is on a large property looking out towards the volcano. Very nice views. It is not a "hotel"; the large property has its own farm, stables for its horses, a central dining area, along with 8 villas well spaced out and private.
The villas are spacious – some people have called them "rustic". I think they are a step above that; very comfortable with most of the amenities that one needs in a somewhat remote villa (a small fridge, microwave, coffee machine, safe, wifi). They are definitely not romantic, but they are comfortable and we enjoyed the room. Each volcano has a spacious outdoor seating area looking out over the volcano. The nightly rate is $150.
Dining. Food and beverages not included in the above rate. There are set times for meals; breakfast from 7-9, dinner at 7pm. At dinner, all the tables are put next to each other into a community longtable. A good way to talk to people next to you if that is what you want (note that most of L&L's customers are American – I'm not saying that in a bad way, I'm just saying that if you're hoping to meet diverse people from varying places you'll be out of luck). Breakfast is a set meal, at dinner you have 3 eating options. Breakfast was our favorite meal, the dining area is a great place to watch the birds going to the birdfeeders.
Free activities: milking cows or picking up chicken's eggs at 7 am, free hour-long hike at 6:15 am by an onsite guide. You can do some walks on some trails around the large property as well.
Leaves and Lizards offers to arrange many tours, many off site (like the ziplinning, hanging bridges etc). For these off site tours, you better have your own transport otherwise very expensive. For some, I've heard the rates are cheaper by booking directly. L&L also arranges a few on site tours including their own horse rides to a private waterfall. $75 per person which is reasonable and everyone who's done it seemed to have loved it.
The above gives you a good general description of L&L. Overall, I think the owners try to appeal to families and I can see that if you have kids (and your own transport) that Leaves and Lizards might be a good value as well as being fun for the kids because of the farm and farm animals. Couples might not appreciate it as much and might not think that they get the same value for their money.
Particulars that we liked/didn't like;
Food/dining
• Dining area a good 5-10 minute walk from the villa along a rocky, hilly, pot-holed road in the dark. The rocks on the road are the size of baseballs. That got old real fast and honestly dinner was not worth it. Where's Taco Bell when you need it? What they don't tell you is that you can have it brought to you in your cabin – after one of the girls told us we ended up doing that 3 out of the 7 nights. We noticed most people seemed to drive to the dining area.
• Breakfast was good. We were not impressed with dinners – food overall starchy, salty, a bit bland. A common theme is stuffing things into something else; Stuffed tomato, stuffed Chicken, etc…I wish restaurants in foreign places stuck to cooking local cuisine.
• The ladies in the dining area are very nice, nicest Costa Ricans we've met on this trip.
• I've mentioned this on a review of another place; A pet peeve is when you get nickel and dimed on the little things like beer, wine etc. In the other review I commended them for not doing that. At Leaves and Lizards you get nickel and dimed; $4 for a can of beer? $35 for a bottle of wine? I don't like that.
Tours
Debbie was incredibly nice with us the first day, introducing Lissette to a horse and giving her horse lessons. Lissette still talks about it. Of course the hope was that we would sign up for the horse tour to the waterfall (which we almost did) – but she didn't have to do that and it was extremely appreciated. L&L also seems to be involved in helping disabled local kids through a therapeutic horseback riding program and Debbie told us a few stories that were inspirational. Meeting the horses, seeing how they were cared for, and hearing about people's rides to the waterfall was a learning experience. I really recommend doing the horse tour in support of their endeavors.
Having said that, Debbie is bit pushy to book you on a tour. We had mentioned in the beginning that we were thinking of getting a guide for a private hike on the volcano – at breakfast on our 3rd day she suddenly told us that we had a guide that day. We said no, we had never discussed specifics. The same happened to another couple, they found out first thing that morning that Debbie had booked them with a guide – they weren't happy about it at all about it but went along with it. I mentioned our Proyecto Asis/Eco-Thermales tour which really disappointed us. We ended up spending most of our time at L&L in the villa; reading and playing scrabble on our balcony while enjoying the view.
Overall, we give Leaves and Lizards a rating of 3 out of 5. As mentioned, if you had your own transport and came here as a family you would most likely appreciate this place much more than we did.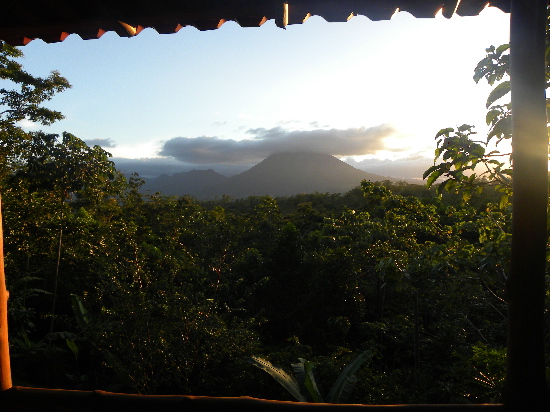 ——————————————————————-
We flew Quepos – La Fortuna with NatureAir. It takes 30 minutes and is a beautiful but very bumpy ride!
Tags:
1
,
Costa Rica
,
PHOTOS