February 2013 – Guanajuato translates (from the indigenous Indian language in this area) as "hilly place of frogs". It was the richest Mexican city in the 18th century because of the mining of silver in the hills surrounding the town. The approach to the historic center is really unique – cars have to go through the old, and quite long, mining tunnels to get into the old city.
It's a very picturesque town to walk – it actually reminded me of Vernazza in Italy (minus the sea) because of the winding stairs, colorful houses, and wonderful views. I had to pinch myself a few times to remember that I was actually in Mexico. And for such a small town there is an abundance of very impressive churches and some very pretty plazas. Another thing that makes the town very attractive is that many of the streets are closed off to car traffic – it's a great place to walk around (Mexican cities not great for that).
There is a funicular in the center of town that goes up one of the hills. Below are some photos looking down on Guanajuato. For someone who enjoys taking photos it is heaven.
Most of these photos were taken on the first of my three days in Guanajuato. I woke up in the middle of the first night there feeling like total shit. For the most part of two days I stayed in my room with a major case of the Crappuccinos*. Tip: don't eat salad in Mexico – I never order salad, I have no idea why I would ever do anything that stupid.
* Crappuccino is a sophisticated way of telling someone that you have traveller's diarrhea. Tell a fellow traveler that you "have to go for a crappuccino", it will automatically discern you from the unknowledgeable, inexperienced traveler and you will no doubt be treated with equal doses of respect and sympathy.
A few more photos:
My mom and I stayed at Casa de la Luna (500 pesos/nt, about $41 inluding breakfast). The guesthouse has a few longterm guests studying Spanish at the university (we met a Korean student and a Canadian who were there for 3 months). Ana is like a mom and Lado loves to joke with the guests. A very nice place.
Queretaro
I told my mom that anyplace after Guanajuato would most likely be a disappointment in comparison. I was right.
Queretaro is a much bigger town and, like Guanajuato, has a Centro Historico that has been designated a World Heritage Site by Unesco. It has lots of pretty churches and some wonderful plazas. The town isn't inundated by tourists and there are some good and affordable restaurants. It's a nice town and is very walkable (unlike Guanajuato, the terrain is flat in the Centro Historico and streets are laid out in a grid). I didn't fall in love with Queretaro but it is nevertheless a very nice town.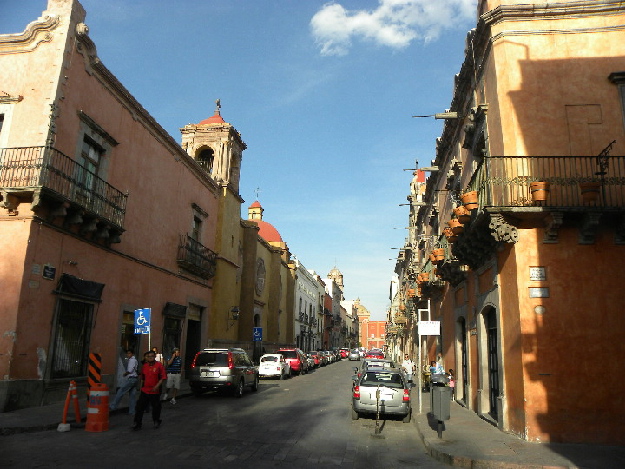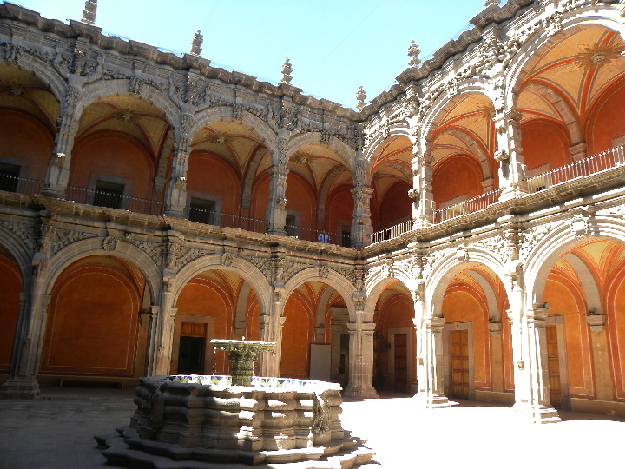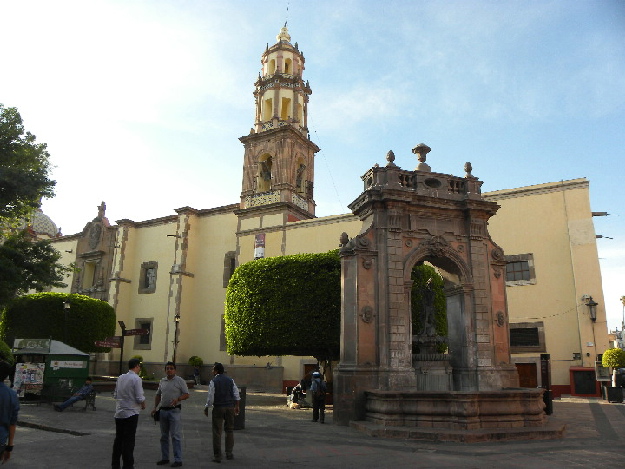 One of the reasons for staying a night in Queretaro was that it is the closest big town to Mexico City and the airport. The next day I said goodbye to my mom and took a bus directly from Queretaro to the airport for the trip home.
My Mexico Summary
I became a fan of Mexico on this trip. If you look at the photos on this post and the previous ones on Mexico, you'd probably admit that it wasn't what you would have expected of Mexico. I had misconceptions before coming here and the beauty of some of the towns in Central Mexico surprised me. I often felt I was somewhere in Europe.
The people were extremely nice, the Spanish easy to understand, the food good. You can travel cheaply and comfortably – transportation infrastructure is excellent and there are lots of affordable hotels and guesthouses. I was nervous about Mexico City but I never ever felt any threat to my safety. The only negative was that I got sick to my stomach (lost 5 lbs over 2 days). That seems to be pretty common though of travellers going to Mexico.
I'll most likely be back. My mom retired in Thailand ten years ago but these days seems more keen on Mexico – I'll probably be back here soon to see her again.
Tags:
1
,
Mexico
,
PHOTOS