Sunday, December 9th, 2007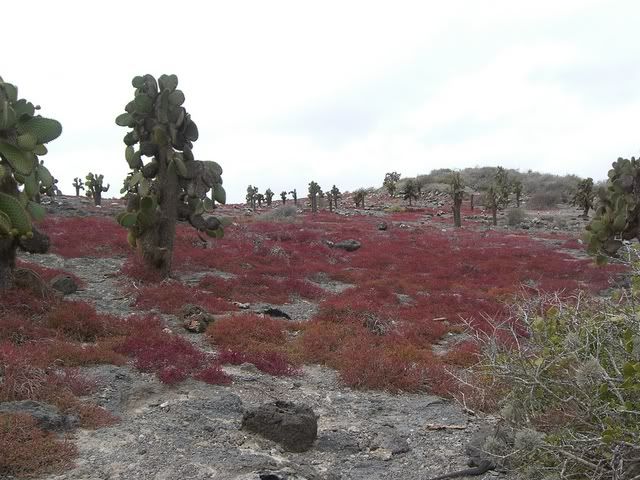 South Plaza Island
By Day 6 we had seen most of the wildlife species that we were going to see so my picture-taking dropped off considerably.  I mean, how many pictures of sea lions does a girl really need?  Not that many, I can assure you.  Days 6 and 7 did have some interesting hikes on islands with different types of topography.  On Day 6 we headed to San Cristobal on a walk to see frigate birds, sea lions and more blue-footed boobies.  The boobies shown below are engaged in some sort of mating ritual (the female is the larger of the two).  Of course, everyone loves a cute picture of baby sea lions (of which there are many this time of year) so that's included as well.
Bluefooted Boobies in a mating ritual
How cute is this?
On Day 7 we headed to a small island called South Plaza with some very interesting red vegetation (seen in the picture above) and magnificent scenery.  South Plaza is also home to some rather large land iguanas…not to be confused with marine iguanas…these iguanas do not swim or go in the water.  Though by this time I was tiring of sea lions (and their unfortunate sea lion smell) I had to take a picture of this triumphant lion.  See that cliff in the background?  There's an equally steep cliff on this side and it took the sea lion about 5 minutes to climb to the top.  Who knew sea lions were such good rock climbers?
Land Iguana
Sea Lion after an impressive climb
Our final hike of the trip took place on North Seymour Island…another great place for wildlife and vegetation.  The main attractions here were the Great Frigate Birds and the Magnificent Frigate Birds (shown below). Also, various migratory shore birds (shown here in flight).
Shore bird of some variety
Frigate Birds
Unfortunately, some of the coolest things we saw I was not able to get on film.  For example on the morning of Day 5 we were awoken by the crew at 6 am as the boat was surrounded by dolphins  swimming alongside and underneath our boat as we sailed to our destination.  There must have been 20 or 25 of them…unfortunately mostly visible only in the water and the pictures didn't turn out well.  Then, on the last day as we were heading to our final destination in open seas we came across several huge Manta Rays.  One actually got very close to the boat and swam under it…but as it was evening there wasn't enough light to get a good photo.  The rays were very cool…even the crew was impressed that we saw so many and of such a large size.
On Day 8 it was off to the airport for our return flights to the mainland.  All in all, a good time was had by all on the Nemo II last week.  As it turns out, I'll be seeing Claire and her parents again as they'll be in Macchu Picchu with Claire's sister the same time I'll be in MP with my sister.  The Gringo Trail is really small after all!  And with that, I'm signing off from Ecuador.  The recordkeepers in the crowd will notice I achieved my goal of 2 posts per week…16 Ecuador posts in 8 weeks.  Keep your web browsers pointed here at the Extravaganza for exciting things to come…like PERU.  And, of course, a very special guest star…my sister Lindsay.  Hasta Luego!