Packing List (updated 3/12/08)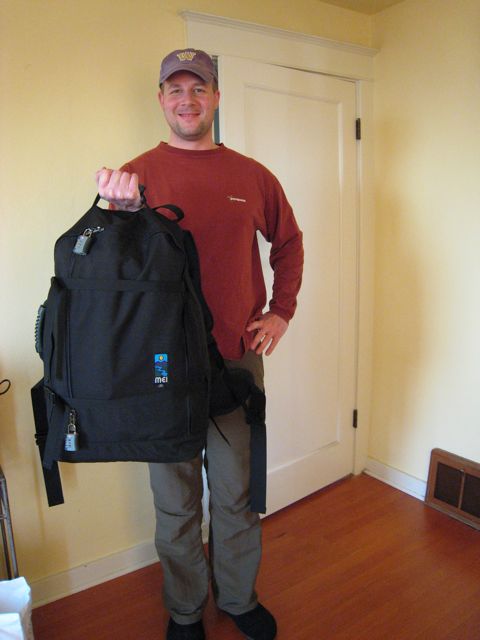 Well, we're 9 hours away from departure and just finished our "Last Supper" at El Gaucho in Seattle. There are a few butterflies in our stomaches as we anxiously await the adventures ahead. Our bags are packed and all that's left is to catch a 8:30 a.m. flight to Lima, Peru. Everyone we've talked to has asked "how do you pack for a 3 month trip using a carry on bag?". Well, it's simple, whether it's 1 week or 3 months the packing list is the same. We're just planning to do a lot of laundry along the way ((Woolite & other clothes soap in tow)). In order to pack for this trip, though, there are a few parameters we had to account for:
Climate: Our locations will range in temperature from 90 – 35 degrees, basically we need to plan for everything but snow
Lodging: We're staying in hotels ranging in price from $25 – $225 per night… our average will be around $120 per night
Mode of Travel: Most of our travel will be via Air with limited Rail (Europe) and Boat (Nile Cruise)
Notable Activities: African Safari, Nile Cruise, and the occasional nice restaurant
Travel Restrictions: One carry on bag per person and our bags can't weigh more than 30 pounds for our flights in Africa.
With those items in mind, below is my packing list weighing in at 24 pounds:
Main Pack:
MEI Voyageur – I like things simple and sturdy… must be something from my days as an Army Ranger. The Voyageur is a cult classic with carry on travelers and I love it. If you have a choice of packs, consider one from MEI. UPDATE: After 2.5 months in use, this is the perfect pack for long-term travel.  I can wear it for hours with no problems and it's very sturdy.  I can't imagine a better pack.   
Other Storage:
Eagle Creek Packable Day Pack
Eagle Creek Guide Bag
Eagle Creek Undergarment Passport Holder UPDATE: Not needed. I keep small change in my guide bag and the big bills back at the hotel.
Clothes:
Pants – Patagonia GII pants (2), Agave Jeans (1)
Shorts – Patagonia GII shorts (2), swim trunks
Shirts – Patagonia Capiliene 2 (1), Mountain Hardware Perpetual L-Sleeve T (2), ExOfficio Dri S-Sleeve T (2), Lacoste S-Sleeve T (1) UPDATE: It was hard to wash and was left behind in Argentina.  My L-Sleeve T's and Dri S-Sleeve T's double for going out shirts.   
Rain Coat – Patagonia Jetstream Jacket
Vest – Patagonia R2
Footwear – New Balance 992 (my wife hates them, I love them), Puma's (dress up) – UPDATE: NB 992 doubled as my dress shoes, and Teva's (dress down) UPDATE: Switched out Teva's for flip-flops (havaianas).  Flip-flops are better for shower shoes and easy to take off in SE Asia since most places require you to take off your shoes before entering. 
Underwear – ExOfficio Give-N-Go Boxers (5)
Socks – Low cut Wigwam (4), dress socks (1)
Misc. Items – Bandana (2), hat (1), Smartwool beanie (1) UPDATE:  Not needed since all climates were warm
Electronics and Toiletries:
IPod (30G) – loaded with more movies than I could possibly watch. Key flicks include: Bad Boys, Gladiator, Thomas Crown Affair, Raiders of the Lost Ark, Mission Impossible I-III, Star Wars IV and V, Wedding Crashers (funniest movie ever… period), Entourage Seasons 1 and 2, Amazing Race Season 1
Camera – Cannon SD 800 IS + 3 2G SD cards
Electrical Converter Kit – UPDATE: We only need the plug converters and not the electrical converter. If you're taking most items, with the exception of a hair dryer, the voltage convert is built into the charger.
Digital Watch – Iron Man
Digital Alarm Clock (In case the Iron Man doesn't wake us for an early flight)
Passport with 6 extra photos for Visas UPDATE: Not needed for the countries we visited
Vaccination Record
Journal (Moleskine)
Sunglasses
Headlamp
Shaving Kit & prescription medication
Well, I think that's it. If there are any major issues with our packing list I'll be sure to make updates to this page. See you in Peru!
Tags:
Travel
,
Tag Index