A terrible tragedy- a 7.8 earthquake happend in Wenchuan, Sichuan province China at 2:38pm on May 12 2008. More than 9000 death have been reported on May 13 2008 7am. More than 60,000 people were trapped and disconnected. China national TV station CCTV news channel broadcasts the after-tragedy rescue live. We watched TV for about 3 hours last night.
The center of the earthquake Wenchuan (汶川) is the home to lovely Grand Pandas. It is also a popular travel destination. It is reported that the roads to the best attraction of the province – Jiuzhaigou are seriously damaged in the earthquake. Jiuzhaigou is about 450 km away from Chengdu and around 300 km away from Wenchuan.
The neighborhood provinces: Yunnan (云南), Shanxi (陕西) and Gansu(甘肃) recorded death in this earthquake. Railways, freeways, power plants, telecom signal towers were damaged. More than 2,800 cellphone signal towers in Sichuan province collaped. Quite some cities and towns near the earthquake center lost electricity. Weather forcast says it will rain in the coming 3 days. So bad.
I would recommend you to change your travel plan to west China in the coming week.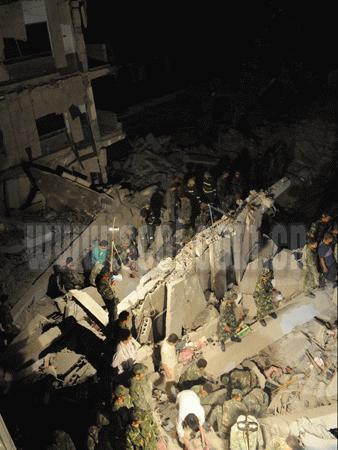 The scene of a high school after earthquake in Doujiangyan (都江堰) which is famous for a dam built in 2000+ years ago. 100 km away from Chendu.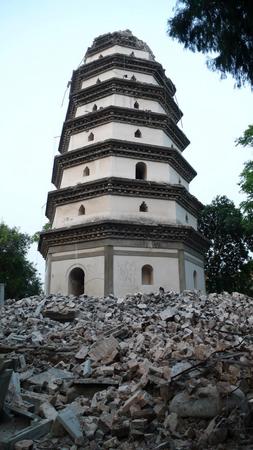 This Ming Dynasty tower in Sichuan Mingzhong city. The tower was 12 floors in the past 400+ years and now only 6 levels left.
Tags:
7.8 earthquake
,
Blog & Blogger
,
china earthquake
,
sichuan earthquake
,
wenchuan
,
wenchuan earthquake