I watched Ocean's 13 last night on DVD, and found the hotel in the movie is very cool. But after I goolged it today, I knew it is a fake hotel, and the real hotel in this movie is actually The Bellagio. I wasn't impressed by the interior decoration of the Bank hotel, but the whole red "DNA" shape design is fantastic, and Ocean's 13's villa is very stylish.
look for the Red building.
We've been to Las Vegas once and had a great time there, though I don't recommend the hotel – Luxor Hotel & Casino we stayed. Two reasons: 1) too far away from the strip though it is on the strip; 2)we stayed at the upgraded room in the tower which is a long way to the hotel front entrance and parking lot. But the rate is good, we paid about $80 a night during Christmas after applying promotion codes which are easy to find on the Net.
Ok, photo time!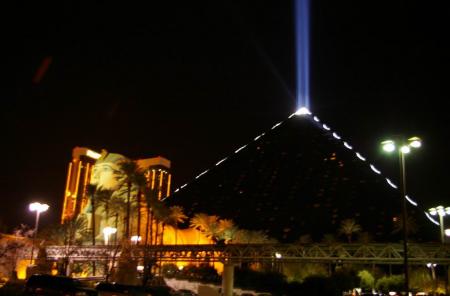 Tags:
Books, Culture, Movies..
,
California Things to Do
,
Travel