Ha Long Bay, Vietnam  (Unesco World Heritage Site)We signed up for a tour this time to go to this famous site in Vietnam. Northern Vietnam doesn't really seem set up for independent travelers; sometimes it's just easier to do a package tour. So we took a minivan up to the jumping off point for Ha Long Bay, which is a bay full of limestone pillars and islands – similar to what you'd see in China at the Three Gorges, where they're building that big dam.  We took a pseudo Chinese "junk," which you can see the pictures. Spent one night on this junk, being wined and dined. (Actually, just "dined;" wine was extravagantly extra!) It was a relaxing time, just looking at beautiful scenery and being with other foreigners (almost all Australians), but maybe a little slow for our tastes. The kids enjoyed jumping off the boat and kayaking, although, believe it or not, it was actually COLD!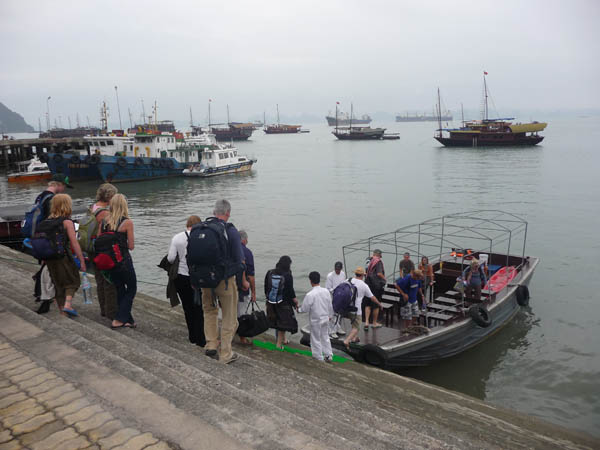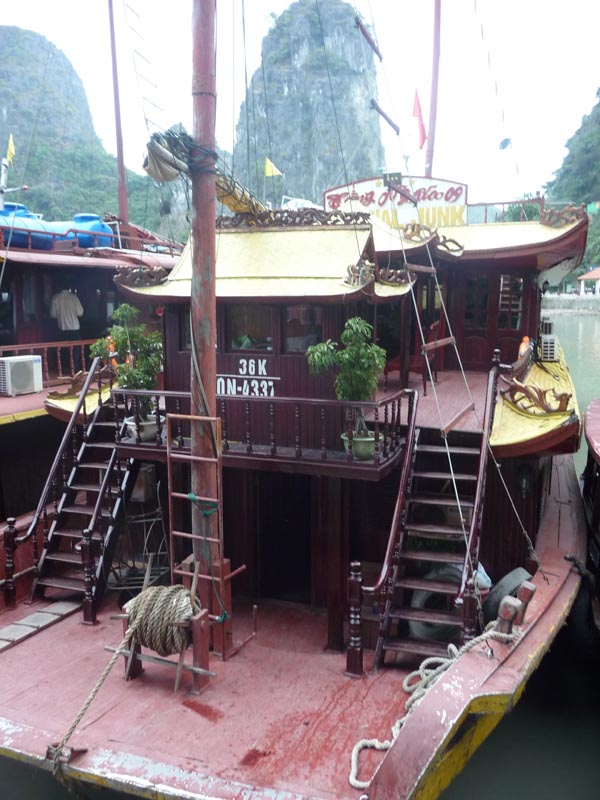 Snake Wine – they believe it has all kinds of medicinal and strong powers – sorry – but I couldn't get myself to try it – the whole idea is a little revolting
Outside of the tour and visitation of the islands – the French found this incredible cave and now it has become the focul point for all the tours – it was very impressive – very deep, long, high
in the bay – capitalism at its best again – these ladies would row their boats out to the different "junks" to see goodies – they must have strong arms
Josh enjoyed the climbing up and down of the ropes
Girls – trying their hand at squid fishing at night – you set up a light off the bow of the boat and then with your fishing rod its like  bobbing for apples – the squids attack the bate as you pull it up – just watch out for them blowing their ink at you.
as you can see below – their are a lot of tours taking place
BELOW:   Sapa, Vietnam February 23, 2009
I'm sitting here at the Cat Cat View Hotel on the top floor of our hotel on our balcony looking out over the "Tonkinese Alps," aptly named because these mountains are high and jagged, like the Alps. (The sea near here is the Gulf of Tonkin.) Could almost feel like we're in the Alps, except there's no snow and it's warm! We took a night train from Hanoi, to this area in northern Vietnam, leaving on a gloomy, rainy night around 9:00 pm. This was another new experience for the kids – sleeper cars, 4 berths to a room. Very small, but cozy in the rain. We arrived in Lao Cai, which is right on the border with China. I don't know why, but it really freaks me out that we're this close to China. China must still exude that sense of the exotic and inaccessible, for some reason, even though we could easily catch a train or bus from here into China if we wanted to! We arrived in Lao Cai at 5:30 am and then caught a mini bus up to Sapa, which is about 6000 feet higher. Took about an hour. It really is stunning and surprising to look out and see these craggy peaks, with terraced rice fields below. Today, we took an extensive "trek" through some of the local villages. There are several tribal groups living up here. They are indigenous people who live across several borders: Laos, China, Thailand and Vietnam. The predominant group here whose name people at home would recognize,  are the Hmong, but there are several others. They still farm in the terraced rice paddies and wear their traditional colorful clothing, but it's not like we're out in the middle of nowhere on our own – there are a lot of foreigners who come up here, including a LOT of Vietnamese people! (Tourists in their own country!) It's a lot like our Native American reservations, except these people live here of their own accord! We walked most of the day through different villages and terraces. The kids were real troopers – no complaining even though we walked miles! It felt a bit overrun with tourists to me, but for the kids, it was a completely different lifestyle than they've seen so far: subsistence farming, bamboo homes, no roads, open sewers and animals living freely with people. However, there are still cell phones and satellite dishes! This trip seems completely worth it when I think what Josh said to me last night as we got on the train: "This trip makes me have a lot more respect for different people." And I think it's just because we keep seeing so many different kinds of people, living their lives and obviously having full and complete lives so different from our own! We stay here one more day, when I hope to do some bargaining in the market for the beautiful weaving that's done here. We then head down on the night train again to Hanoi, arriving at 4:00 am this time! Not sure where we're going from here. Figuring it out as we go…!New Experience:  Sleeper Train – Tim had to go bunk in other cabin 🙁
arrived on train to Lao Cai (5:00am) – 4 miles from China Border.  Took bus up a winding road to Sapa – memories of traveling up the road to Murree, Pakistan where I grew up – quite surreal, listening to Enya as we wind up the fog clouded road and hills to the town – to arrive and get this sunrise picture as it just peaks over the mountains – the town of Sapa – the first time in roughly 2 months were we felt cold and had to put on jackets – yea!  (Tahoe family)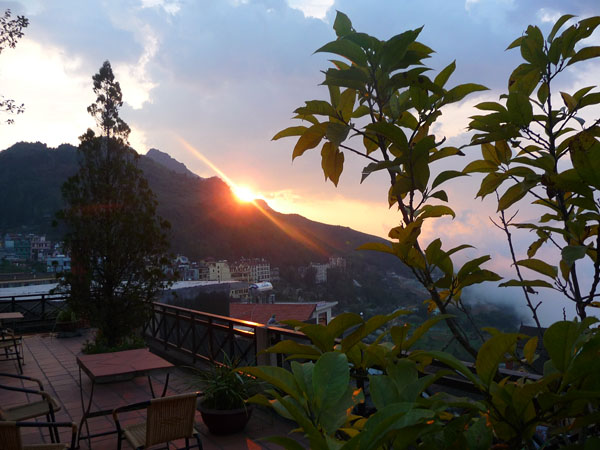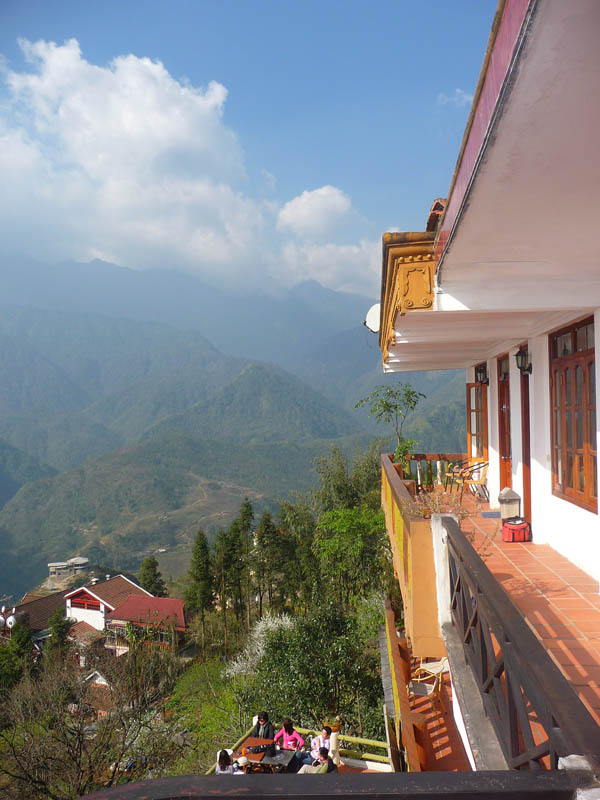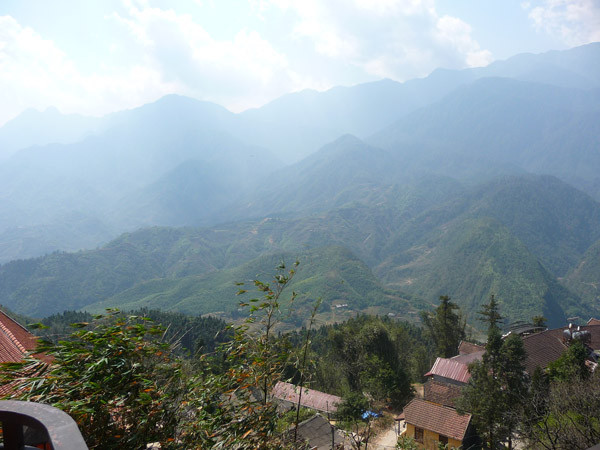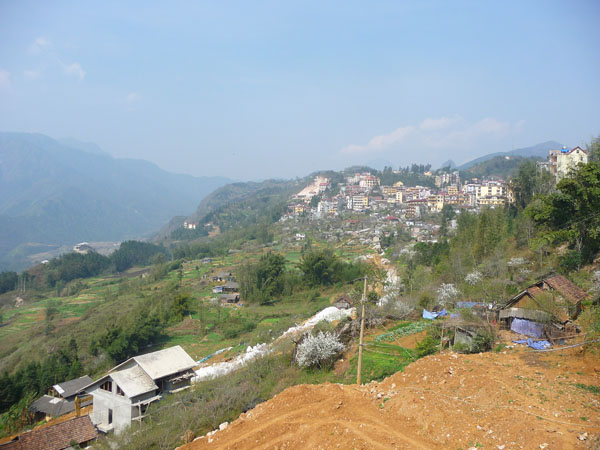 Trekking into a village – hiked 3 hours – our guide below in traditional outfit of Black Hang Tribe – 16 years old – already been proposed to twice – great English – on the cell phone like any teenager.
Annika – brought a stuffed animal – dog "tank" in memory of her real dog.  She decided to take her day bag and place "Tanks" head out of the top so he would not miss the scenery.
Hiking in:  We had  convoy with as as we hiked. This is true persistance capitalism – yes after they hiked with us for 2 hours we did buy some of their crafts – they then gave the girls little handmaid wrist bands – we thought that was so nice – we now believe it to be a sign – "they are taken" – because when we arrived at the village we were not hassled from all the ladies trying to sell us their goods.
Rice terraces – not in season – too bad otherwise the whole hillside would be awash in green
We decided to go off the beaten track and approach the village from a different path – we climbed up the side of this hill and then down – yes – that is the tip and the next picture is looking straight down off the ride side – vertigo?
This is the valley our guides village isSteep getting down – Josh enjoyed it sliding down the dirt like he was skiing
Village shots – Josh eating sugar cane – I have given them stories of the times we ate sugar cane in Pakistan and it is the greatest desert – well – they got to experience it.
Memories:  like off-roading in Kaghan, Pakistan – 25 years ago.  My kind of road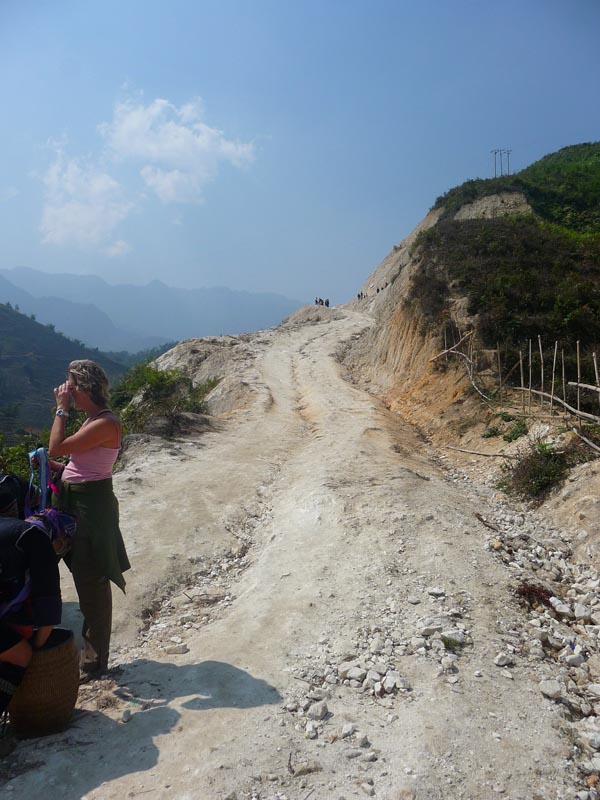 Village – cultural dance and the girls with the dancers 
how would you like that kind of job? – hiking up a down mountain to get firewood
corn grinding mill – by hand
the old artesian water well to get water up from river and dropped into bamboo to run down to the crops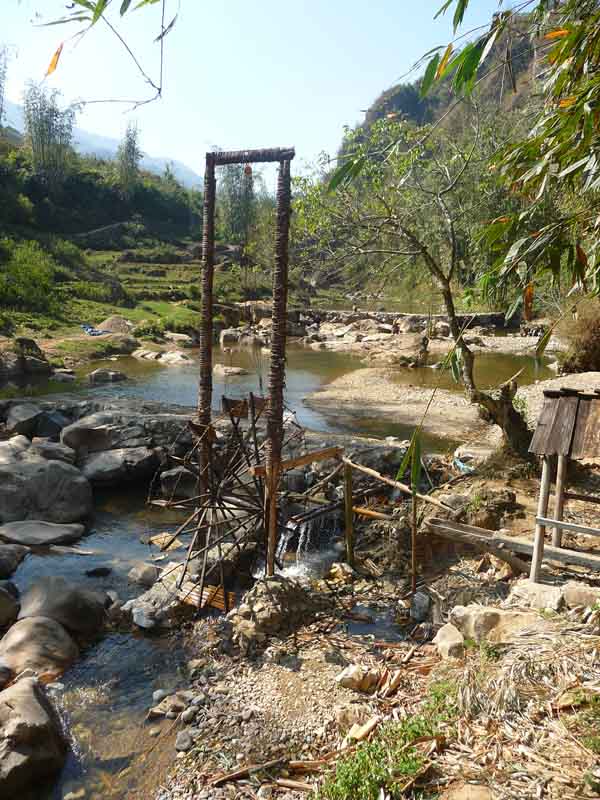 Kids are the same everywhere – went to a classroom – the desks are all marked up like you may see in the US
Pigs – notice the hill behind.  That was the last part of the trek where we came from. 
Tags:
Travel