January 8th, 2007
Sunset on the main beach, Gran Roque. 
Warning: The following photos of crystal clear oceans in every shade of blue, white sand, palm trees and spectacular sunsets may make you want leave your job and/or insanely jealous, sorry.
Actually there were so many spectacular photo opportunities in Los Roques that I will never be able to fit them all in this post so I have added the rest as enlargeable thumbnails at the bottom. I couldn't resist.
We decided to go to Venezuela for a rather long 'stopover' on our way back to Argentina after visiting Kate and some of my rellies up in Myrtle Beach, South Carolina. It was fantastic to see Kate and we had a good time hanging out at the beach (and bars) doing lots of catching up. The strip malls, restaurant chains with no character, time share hotel tourism and general rabid consumerism of the states were quite a shock after so long in Argentina. We did enjoy the efficiency and technology – I was excited when we went to a supermarket and you could even check yourself out at the register …. but as one guy said 'we make it easy for you to buy stuff in this country'!
Arrived in Venezuela expecting a return to inefficient systems, unpredictable airport immigration/customs and aggressively soliciting bag carriers and taxi drivers (these were the rumors). Instead, we were whisked through immigration and customs with cheery smiles in less than 15 mins and were met my an extremely helpful airport worker (one of many officials that wait at the arrival gates to assist people) who showed us where to change money, hefted our bags onto a cart and then escorted us on the 5 minute walk down the road to the domestic terminal and the counter to which we were catching our flight to Los Roques. Caracas International airport is by far the most efficient and friendly airport we have ever experienced.
We caught our connecting flight to Los Roques a couple of hours after we arrived in Venezuela. The old russian-made plane rumbled its way over the blue carribean, the clouds disappeared and in less than 40 minutes we were descending over incredibly clear waters of every shade of blue pocked with deserted sandbars and larger islands surrounded by reef-fringed lagoons.
The scenery on the flight in (click to enlarge).
Los Roques is a carribean archipelago of over 50 islands and many more sandbars. The weather is almost permanently sunny (this leads to some problems with lack of fresh water) and vegetation is pretty limited to a few shrubs and palm trees. It's a national park so infrastructure development is quite restricted, no hotels here. We landed in Gran Roque, the main island and the only 'town' in Los Roques. The town is really cute, there are no cars, the streets are sand and its filled with brightly coloured houses and 'Posadas' – little guesthouse or B&B things with between 2 and 10 rooms. Unfortunately the Posadas were out of the budget with prices about 3 times higher than usual because it was high season (European summer…. the place was full of europeans, mostly Italians) and no availability anyway so luckily we had come prepared with tent and various camping paraphernalia and we found the magnificent 'camping area', a little space right on the beach with a bit of shade. No facilities but what did we care – there was an ocean 5 steps from the tent.
The town of Gran Roque.
View from our tent.
 We spent 3 days in Gran Roque doing some tours out to different islands, a fishing trip, watching amazing sunsets and drinking lots of Mojitos and strong beer out of small cans. My superior big game fishing prowess was once again proved, hammering Mick 4 barracuda to 2 (including the largest) and continuing my part of the 'Grunter Sister' tradition that is now famous in at least 4 countries (if Kate was there its sure that we would have caught a Marlin). Mick continued to try to lure bonefish from the bank with great fly fishing style and some new made-up techniques but it seems that they saw him coming every time. Just as an aside, when we were getting a photo taken with the fish that we'd caught this old mate came up to us and asked if he could have his photo taken with our fish also – what a chimer! Reminds me of this time in Karumba….
A plane arrives in Gran Roque.
Cute kids fishing.
Moon rising over the main beach, Gran Roque
Mels fishing haul
One of the deserted beaches
More sunset
DC9 parked up on the airstrip at Gran Roque.
On the 4th day we decided to head out to one of the more 'deserted islands' that you could camp on, called Crasqui. Luckily for us although there wasn't many people living on the island (about 4) there was a little restaurant there which we could buy water from as the 3 litres we took were hardly sufficient for about 2 hours (seriously warm). there were quite a few people on the island during the day coming for a visit from Gran Roque but in the nights we were the only ones on the beach…. although there was still at least 8 multi million dollar yachts parked ot o the bay, but whatever….
We set up camp under the only palm tree, shade very important, and Mick set about building us a little shack for some extra shade out of some driftwood and palm fronds. Not a bad job!
The camp site on Crasqui.
So we spent the next 4 days swimming, snorkeling, fishing (Mick) and lying about in the little shack reading books. tough life.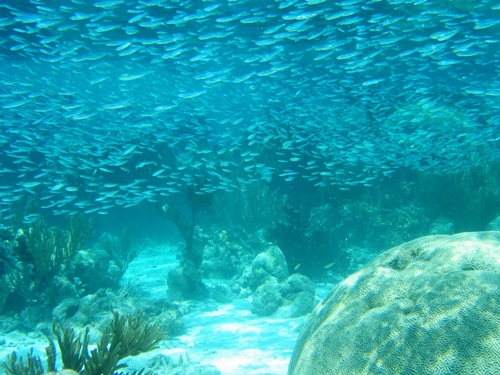 The snorkeling was amazing – absolutely chockers with fish!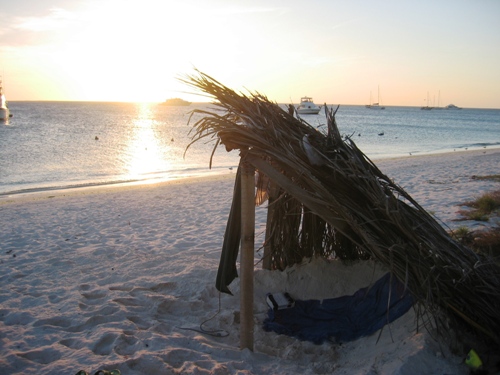 The shade shack at sunset
Mick fly-fishing
And then the most exciting thing on the trip happened….. Mick caught a bonefish on the fly!!
These are the pics to prove it….
First a little one….
Then a bigger one….
And then he caught an even bigger one (about 70 cms), but of course the memory card in the camera had just run out and couldn't find the next one in all the excitement… really!
The sunsets on the island were spectacular and the mulitudes of pelicans put on some amazing synchronised diving displays.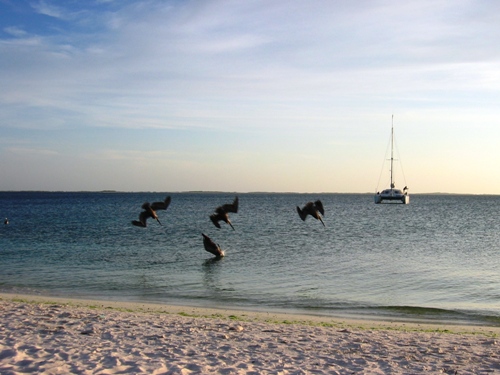 And generally spectacular pics
On the last night in Venezuela we went back to Gran Roque and shelled out the 'plata' for a room in a posada as we had serious doubts about being allowed into Argentina in our somewhat disheveled states, covered in salt, sand, bug bites and very patchy tan/sunburn. Again, the beers and mojitos went down a treat, although after the sandflies that attacked us during the night and the mercifully quick bout of food poisoning from breakfast the next morning we weren't too sure about the value for money of the posada. Another very nice sunset though, of course.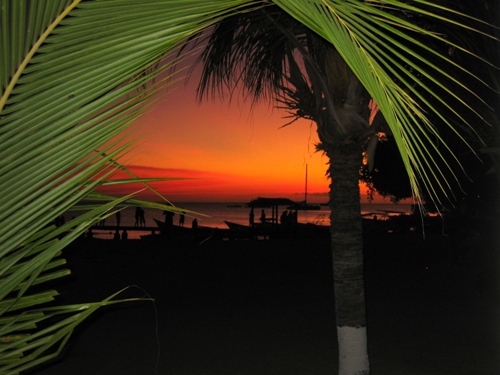 Tags:
Travel Destinations