May 4th, 2006
August 2005. 
A friday night boozin session in Catamarca set up the platform for a spectacular weekend, where we covered 1000kms and climbed up to 4000m.
Saturday morning, we headed out to the west, to some thermal springs and spent a good couple of hours sippin' beers that were quite conveniently on sale from a little barn. One of the better ways to watch a sunset in the Andes.
Beers (the aussies anyway) in the hot springs, Fiambalá, Catamarca.
The whole crew above the hot springs Ari, Martin, Mel and Mick.
Next day we drove out to the Paso de San Fransisco, on the Arg-Chile boarder. We went through some magnificent valleys and up onto the high plateau. Mel made friends with a little llama at the boarder station.
Refugio on the high plateau.
Stuzuki and Mel at sunrise.
Ohhhh…the baby Llama (actually a Vicuña) and Mel.
Incahuasi volcano (6800m) at the border.
On the way back down, we got hit by El Zonda, a mean northerly wind that comes down out of the mountains. It was was blowing so hard that it sandblasted the paint off the front of the car and pretty much wrecked the windscreen. It however did make driving downwind effortless, where it was possible to travel 100km/hr in neutral on flat ground.
Spectacular geology on the way back.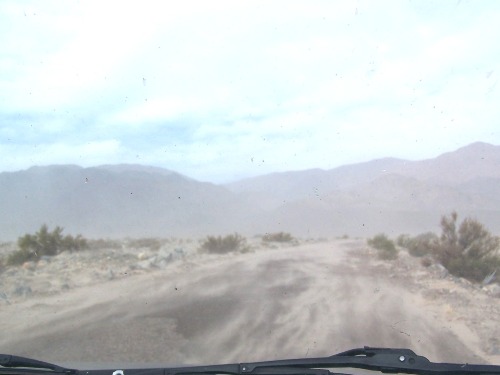 El Zonda.
Tags:
Travel Destinations