Leaving Chiang Mai to head up north to Pai.  Above, we now used another form of transportation – a minibus.
Pai:  North Eastern area of Thailand – next to the Burmese border. 
We wanted to get up into the hill tribe area or mountain area of Thailand.  There are two locations that tourists seem to gravitate toward – Pai and Chiang Rai.  We decided to go to Pai – more of a quant hippie style hangout place.  It sounded more remote and less "touristy", so we took the 4 hour drive in a minibus.  The road up the mountain was quite narrow with steep switchbacks, but the driver was real good.  It then dropped you into the valley floor.  It was a lot hotter than we expected, but the evenings were real nice (temperature wise).  It was a very peaceful, laid back place.  We were right on the small river and enjoyed sitting out on our balcony area listening to the sounds of the frogs, roosters, birds, water, etc.  This would be a great place to come after the rainy season when it would be green and the rice fields in season.  Right now, they are "burning" (the rice fields and garbage and leaves in the whole north).  It is meant to be illegal now to control pollution and environemtal hazards, but no one seems to regulate it.  It was very smoky, and hazy.  Luckily Annika, nor anyone else had too much trouble breathing.  We enjoyed the quiet.  The one "activity" of the trip was to  ride an elephant.  It was quite the experience – see kids blogs below.  We were going to go the hilltribal area called the "long necks".  The people get this name because when young they "stretch their necks by wearing neck bracelets.  By adding more bracelets, the neck gets stretched.  This was going to be a day long switch back road, and the kids were not up for it.  On a long trip like this, one can not always accomplish all that one wants to see.  We would definitely come back to this area in the future if we are in Thailand, but at a better season.  See kids writings about the elephant ride and bath.  We did not get too many pictures because we were getting wet in the river.  However, they did video tape it and yes, we did buy the video tape.  It is a great memory.  The group we went with has had the elephants in their family for 4 generations and are conscious of the need for animal rights and care.  Below:  military checkpoint.  The north is a specific province of tribal people.  They are not necessarily considered Thai citizens.  In order to travel, the need specific papers.  Also, this area is know to have alot of  illegal immigrants from Burma and also is close to the Golden Triangle (ie. drug trade).  Therefore, the military check points with AK 47 and sniffing dogs. 
sight of hills from our balcony.  you can see the smoky air. 
The highlight besides relaxing – riding on an elephant
Annika Writing:  The elephant ride was sweeto on the neeto!  We climbed up from his leg, I sat on the neck. His hair was prickly.  When he flapped his ears it kind of hurt.  We rode on the elephant on the road for a while then went on a dirt road to the river to play with the elephants. The first thing we did in the river was he sat down and squirted water at our faces. Then he rolled to the side and sometimes we fell off but not always. Then he stood up and, with one person on his back, shook you off. I didn't stay on very long. It was totally awesome!
Natasha writing: When we got there we gave the elephants bananas but instead of peeling them we gave the bananas to them whole! Then we got on the elephants. We rode them bear back because we were going in the river with them! We would climb up the leg of the elephant, he would pick up his foot and bend it so your left foot fit between his foot and the right foot on top of his foot and pull yourself up. Then they walked on the road for a while then we turned and walked on a dirt road to the river. It was scary when he wanted to eat something because he was trying to tare a little banana tree so he was throwing his head around.  When we got to the river the elephants sat down and rolled to the side and I fell of almost every time. Then he stood up with only me on his back and started to shake his head and shoulders. I didn't know what was going on but then I realized he was trying to get me of so I fell off when I couldn't hold on any longer! Then we walked back on the elephants to the place where we started. It was so FUN!!!!!!!!!!!!!!!
Josh writing:  Elephants are big, just big. If you have seen an elephant before then you would know what I mean. Not to mention that they are very strong. When we climbed on to their backs, the elephants lifted me with their trunks, with their trunks!! I weigh 120 lbs and he lifted me up as if I were a feather!! Elephants might look comfortable but they are not that, especially if you are sitting on their neck. Every step they take, some muscle or bone would jab my butt. Their hair is also very prickly. The funniest part was when we went into the river and the elephants sprayed us with water, and then shook us off their backs. After that we continued on down the river and then it was done………ahhhh the end? After that we went and sat if a hot spring which felt good because since we were hot when we good out the air felt cool, for once.
Riding shotgun – called mahoot – the one who controls the elephant.  Annika had the opportunity to be that person.
We missed getting alot of pictures because we were all having fun being tossed in the water by the elephants.
School work – science – what a colorful head, but when stressed its color changes
As mentioned, the town is a very "hippie/alternative" type of community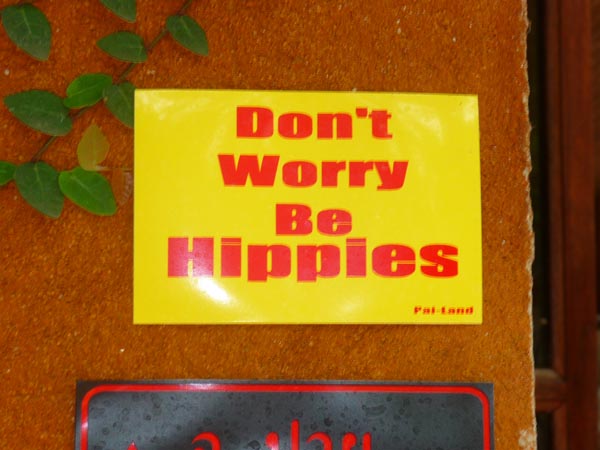 Our girls and their clothing kind of fit in.
In the middle of the north of Thailand, who would believe you would see a sign for a Unkranian specialty
Leaving Chiang Mai – Natalie was quite sad
Everywhere are pictures of the King.
In the Bankok train station – a big set up with signs, music, a masot (toilet?) – they are trying to sell their toilets – the gig included kids hip hop/jazz dance included.
Here I sit at 11:00pm finishing the last of the Thailand blogs.  We will be flying out to Kolkatta (aka Calcutta) India – better known for its poverty, people, and Mother Theresa.  Everyone is a little nervous knowing India will be the hardest travel of all the countries with the crowds, heat, dust, totally different culture, etc.  Ready or not here we come!!!!
Tags:
Travel