Hoi An –  a fabulous old city – know for its tailoring, shoe making, restaurants, chinese lanterns, and french pastries.
 Natasha writing:  I liked Hoi An because it was a quiet little town but still had stuff to do.  Mom and Josh got shoes made at a place called Ba Le.  Mom, Annika, and Josh got jackets made at a really fancy place called Yaly's. The place had really good quality cloths but really expensive. I went to a little shop on the street, next to our hotel because i saw a skirt outside that i liked.  It wasn't as good quality but it was still good enough to wear and I like it.  I got some lanterns in Hoi An and the lady whole sold them to me was really nice and sweet.  Her name was Ang and she was 23 years old. i got four lanterns, one big and three smaller ones, and Mom got two really small ones all for $10, USD, US dollers.  I also liked the beach, it had really big and stong waves but they were fun to try to get passed with out getting knocked over! The beach had really soft sand but if you wanted a chair you had to by something at the restaurant.
Annika Writing:  when we arrived we looked at 5 hotels and chose the one with a small pool on the roof – it was only $18 per night.  Tasha and I had our own room with mosquito netting over the beds.  We keep meeting other tourists that are following the same path.  They told us about a tailoring shop – Yalle – and I had a jacket made here.  When you get there, you sit down and look at catalogues for the picture of the jacket  you wanted, then you pick out the fabric (mine was plaid green), then they measure you, then take a picture of you and it goes into the computer, then they have a group of seamstresses working on it.  You come back the next day, try it on, they make changes if you need it, and it's done.
Natalie Writing:  Hoi An was a beautiful, QUIET,  and old town with a lot of buildings that had been around for hundreds of  years (not common in a country that's been at war for as long as Vietnam) The old quarter of town was closed to motorbikes and cars several times while we were there and it was magical – especially at night, when the Chinese lanterns were lit. Tasha enjoyed talking to one of the girls who made lanterns and ended up buying a few for her room. The other memorable experience in Hoi An was having clothes and shoes made. We weren't really planning on doing this, but it seemed all part of the Vietnam experience. When else will we ever have clothes made? (Unless, of course, I manage to pull out my sewing machine sometime!)
This sure was a narrow street – to get from one to another
Tailoring Shops throughout the town
the famous one in the guide book – quite a production – the one we used to get a jacket made for Josh and Annika and silk suitcoat for Natalie – all in one day
known for its restaurants on every street – also the French pastries were the best in Asia
Known for its art stores also – water colors, oils etc – noticed alot more art in Vietnam than Thailand
note the woodworking – all off of one piece of wood – I can't image the hours it took to make this
Also known for Chinese Lanterns – it is so pretty at night with the whole town lit up.  This is the lady that Tasha bought from
And yes – we did know that there was a beach nearby – and decided to go one day – huge waves as compared to Thailand which had no waves – Yea something for Josh to do – body surf
We had a couple of hours prior to our bus leaving so the "girls" pampered themselves for a manicure and petticure for only $ 8 US.
After Hoi Ann, we took a night bus to Nha Trang (considered the Premier vacation/conference destination inVietnam). The main highway(there is only one) is still very much in need of repair and upkeep – a  very bumpy ride.   At one of the rest stops, the driver took out incense, lit it, put in on the license plate, and prayed – that is a good sign, since driving is very challenging here with respect to safety due to all the buses, cars, motorbikes, etc on only 2 lanes.  We arrived in Nha Trang at 4:45am – everything is still shut down. Now what do we do, or where do we go- most things don't open up till 6:00am?  Well, as we walked to the main road that ran along the coastline-beach area, lo and behold, the place was packed with hundreds (I really am not exaggerating!)of people "exercising" – thai chi, badminton, standing in placed doing some kind of strange movements I guess you would call calesthenics, jogging in place, in groups or separately, there was even a soccer game going on (all at 5:00am – it was just bizarre – I have never seen anything like it!)   We finally found a place to sit down and get breakfast while being hounded by touts trying to sell us their hotel.  After an hour, we  found one that worked for us.  We did some sightseeing via renting motor bikes, Cham Temples, hung out at the beach, went to a small water park. In all, it was okay, but we did not really enjoy the town that much as a beach location area. We did at last meet a travelling American family, from Seattle, with two kids aged 9 and 14, who are travelling for 10 mon ths.
 photo from our hotel room – only $18
Best way to get around – rent motorbike for $3 per day – that is Tasha you see – Tim usually took Annika and Natasha while Josh was with Natalie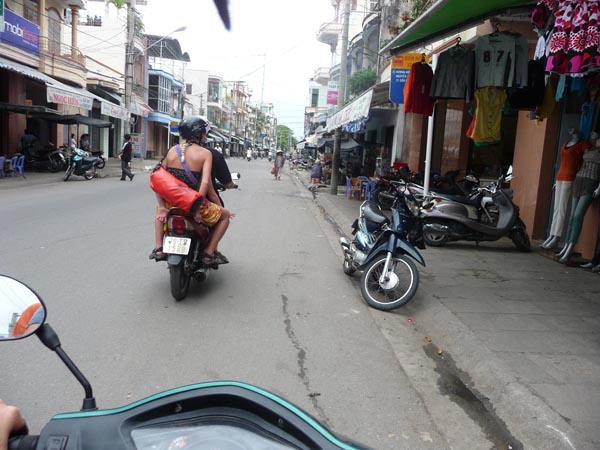 Cham Civilization – Temple – a very spiritual place – however – it was to worship the reproductive system – alot of different "symbols" were noticed
The entry into the temple
They had this big resort out on an island off the mainland – and – one way to get to it was via a cable car system over the ocean.  You can also see a huge cruiseliner in the background.
Ah yes – seafood – this was a special Vietnamese local that had you barbeque your food right at your table – Tiger Prawns – yum good!
platefule of crabs
This picture is for Papa Campbell – a true Vespa – memories of your travels through Europe, Tasha was real happy she had to pose with the Vespa
The Water Park – the funnest part to the park was the zip line
Everyone got a kick out of my "pink" helmut – its all they had, I sure got funny stares from everyone.
Tags:
Travel