Time to catch up on our travels: Josh seen here waiting in Siagon airport drooling over a toblerone chocolate bar while waiting to catch the flight back to Bankok.
Left Ho Chi Minh City –  Last notes:  Siagon.  However, the day before we left, rather than sightsee, we took the kids to a large water park.  This had numeruous slides and pools, etc like you would find in the States.  A good break from the continuous sightseeing, etc.  The trip has been pretty accident free despite the chances for something to go wrong – traveling on the roads, traveling on the high seas, scuba diving, snorkeling, kitesurfing, trying to cross a street, etc.  You would think these would be the areas for it to happen – but NO – it happened in the water park.  And to no other than the one who seems to always "knock" his  head – Tim.  There was one slide that we would call the "toilet bowl".  You go down this straight shoot for about 100 yds, then it shoots you into  basically a toilet bowl, you go round and round until you slow down and it drops you through a  hole (like a toilet does) into the pool below.  Josh went first, then Tim.  In the US you are supposed to place your arms across your chest.  At this water park then wanted you to hold the back of your head – they didn't tell us that until after the ride.  I was flying along with water spraying up into my nose and eyes making it hard to breath, so I raised my head alittle to breath.  The tube unfortunately did not run straight and smooth into the toilet bowl, there was a little drop.  All of a sudden, my head shot back and hit the structure.  I thought I had literally split my head open (Josh was outside and heard this huge "thwack").  I didn't know what happened, but I remember my head on fire and finally slowing down ready to drop through the hole.  I hit the pool below and remember grabbing my head and collapsing on the pool deck – only to be grabbed and told to get out of the water.  I reached back to the top of my head and my hand came away all bloody.   It sure felt like I split my head open.  To make a long story short – they had a small first aid clinic on sight with a nurse.  She cleaned it up – luckily it was only an abrasion and no laceration (which I was fearful of which would mean hospital and stitches).  I have a picture if you would like to see it – HA.  My other thought was concussion which may cause problems because we were to fly out the next day to Bankok.  No concussion, but I was "knocked" out for the rest of the day.  It kind of took the wind out of the sail for the kids fun at the water park for about a half an hour – then they were back at it.  That night was not a good sleeping night.  My neck and back still have lingering soreness. 
March 18 – back to Bankok:  since we had to leave Thailand do to the visa situation, we wanted to come back and see Bankok, then go see Chiang Mai in the north where Natalie had spent a year finishing her Masters Thesis.  What is the attraction of Bankok – all the Wats (Buddhist Temples, the Grand Palace, where the King lives, a big bussling city).  Out side of the the Palace and Wat sights, we did go to some of the big high end shopping plaza's that have been built, walk the city streets and bazaars, go to Kauson Road (where all the "farangs" – tourists hang out), went a a cinema and saw Pink Panther II, happened to be at a guest house where there was a temple for which the Kings daughter was coming to pray – waited at the roadside for her to come out – the escort included 7 police motor bikes, front police car, her antique Rolis Royce (we got to see the princess and wave to her), then about 10 BMW sedans with all kinds of military  personell dressed up in their finest (with their distinguished badges) following behind.  No pictures, had to take our hats off –of course -, stand at attention in reverence.  It was a one of a kind experience and we got to do it.  Another interesting experience (at the cinema for Pink Panther II) – just before watching the movie started, there was a pause and on the screen was a picture of the King.   The audience (including us) all stood up to pay reverence as a song was sung.  I doubt that would ever happen in the US.  They really like their King.  Also, at 8:00am every morning in public places (like the train or bus station), the national anthem (I think) is played and everyone stops what they are doing, rise to attention, face towards a picture of the King, and pay reverence while the song is played.  Kids writing about Bankok.
Annika Writing: In Bangkok   it was vveeerrrryyyy busy in the malls. It was also verrryyy   hot!
We saw went to a lot of temples that weren't very interesting to me. We also went shopping in the malls I got shoes and other stuff   I didn't like the mall at all it was way too crowded. For  dinner  we mostly ate at little stalls, all I ate was satay it was the only thing I liked the rest of the food  I didn't  like .Sometimes we took tuk tuks back to are hotel. Tuk tuks are little carts that have 3 wells it is only made for 3 people but we fit 5.  Are hotel was very clean and nice .We saw the princes of Thailand. It was ok to stay in Bangkok!
Natasha writing: It was very hot in Bangkok and veerrrrryyyy busy, too. I didn't like it at all! I necessarily don't like big cities in the first place so I hated it. It was fine until we got to the mall. Well I wasn't fine but I was okay. The mall was really big and reeeeaaalllyyy crowded. I got a long sleeve shirt and new shoes. My shirt is brown and white little strips and has a A & F logo on it. My shoes are black like Convers with rainbow colored outlines. The first night we ate at a little stall and had chao men gai (cow man gi, chicken on rice) and chicken satay (fried chicken). The next night we had all Thai food at a restaurant called the Tuk Tuk restaurant. I don't remember the other nights. We went to see the grand palace which was the king's palace but not any more.
Josh writing: Bangkok, like the rest of Asia is really frickin' hot I -as most people know- I hate the heat and don't do well in the heat anyway. We stayed in the same place as we did last time we were there. I don't have  much to say about it. We went to the Imperial Palace, which was kinda cool because it was so big and that 'the' Buddha was made of Jade. 'The' Buddha was a special Buddha made of Jade that was constructed a long time ago. Next went to this reclining Buddha who was a story and a half tall and around 50 meters long. That night we saw the Pink Panther 2 at a movie theater. Right before the movie started we had to stand in honor of the king while the national was played the movie theater was nicer than the ones at home. We did some shopping in the malls that were overly crowded and I got some Skull Candy headphones, the Hesh to be exact. Then we left for Chaing Mia.
The Grand Palace – established in 1792 – housing royal residence and throne halls, but also government offices.  It is 218,00 square meters surrounded by wals 1900 meters long.  Within the palace walls is the Royal Monastery of the Emerald Buddha – one of the most vernerated sites in Thailand where people pay respect to the Lord Buddha and His Teachings.  I won't go into detail of all what we saw and what it was called, but you will get the idea of the detail and architecture that went into it.  The King no longer lives here – it is a tourist and spiritual place forBuddhists, and i still used for state funcions and government offices.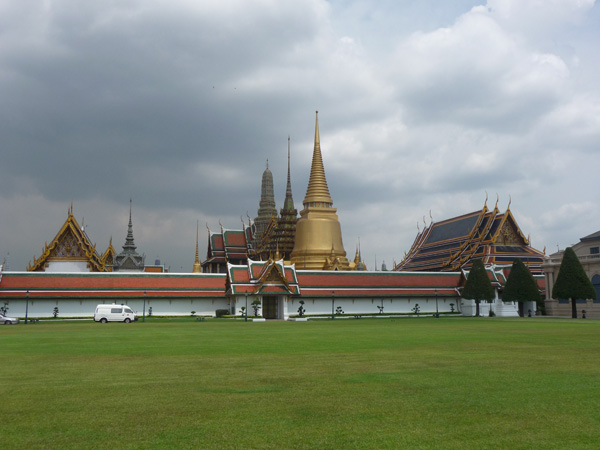 Temple site of the Emerald Buddha – built from one piece of Jade found int 1434.  The temple architecture, paintings, gold paint, etc is incredible.  The doors going into the temple are all inlaid with mother of pearl.  The paintings gives you a picture of history and time of Buddha and Thai stories and proverbs.
Reliquary of a golden chedi and where sacred scriptures are held.
Just detail work pictures.
Detail isbroken pottery inlay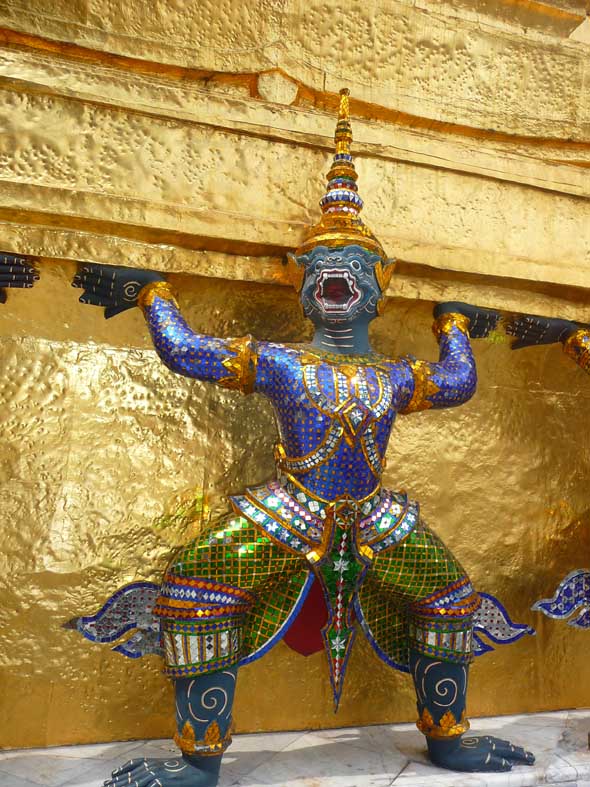 This was a no no – I took a picture within the museum grounds and got reprimanded by the guard.  These are old spears from different areas of King Rama.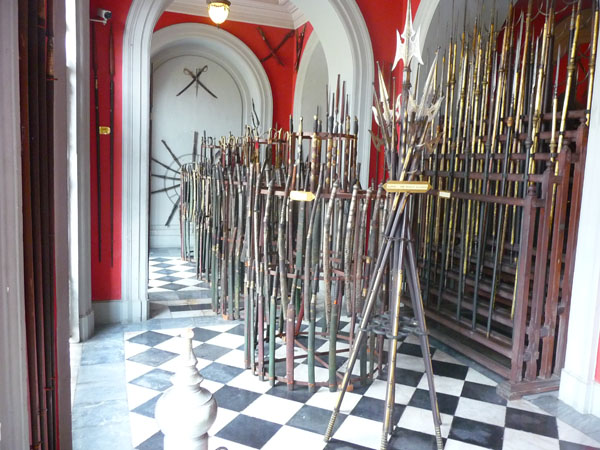 A royal hall used for government meetings and dignitaries
A model in large scale of Angkor Wat.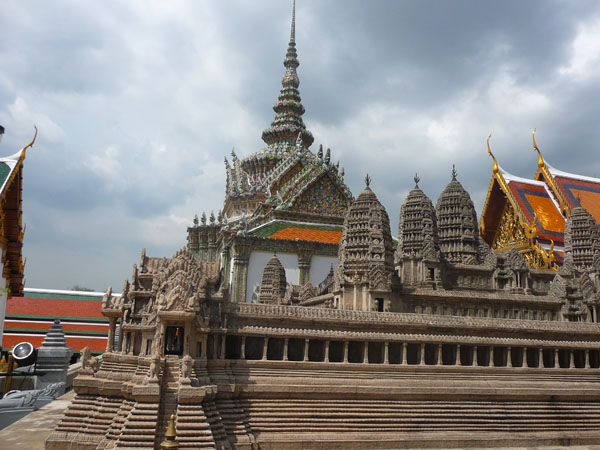 A long the outside walls – 4 sided – are paintings of historical battles or telling historical stories.  You can see that they are trying to keep the paint fresh.  Anything you see is dull is old and any bright colors are new.  They are starting with the gold color and it just "shines".
Despite all the kids bravado in not going to get all of us in a "tuk tuk" – we did and they enoyed it.
Natalies favorite thing to do – sit out at the night markets (rather than restaurants) and catch the local food.
This is the Temple (or Wat as they are called) of the Golden Reclinning Buddha – a very popular site next to the Emerald Buddha.  On the Bankok map there must be at least 30 Wats one could go visit – some more tourist popular than others.
This whole all is inlaid with mother of pearl.
These are stupas – meant to hold bone remains of "pilgrims" – didn't quite understand that 
The Princess Sighting – she just happend to be going to a Wat down by our guest house- pictures of  that event – the kids actually got to see the princess of Thailand. 
Funny sayings – sights – here is a picture  telling males not to climb the wall and peak on the girls going to the bathroom
Self explanatory – we did not stay here
"tuk tuk" restaurant – happend to come upon this restaurant which is owned by a renowned Thai artist.  His style is different, but is real popular.  He opened up a restuarant and on the second floor is a gallery for budding artists to display their work.  Did not get a picture of the famous Kousan Road – where all the tourist – called "farang" hang out.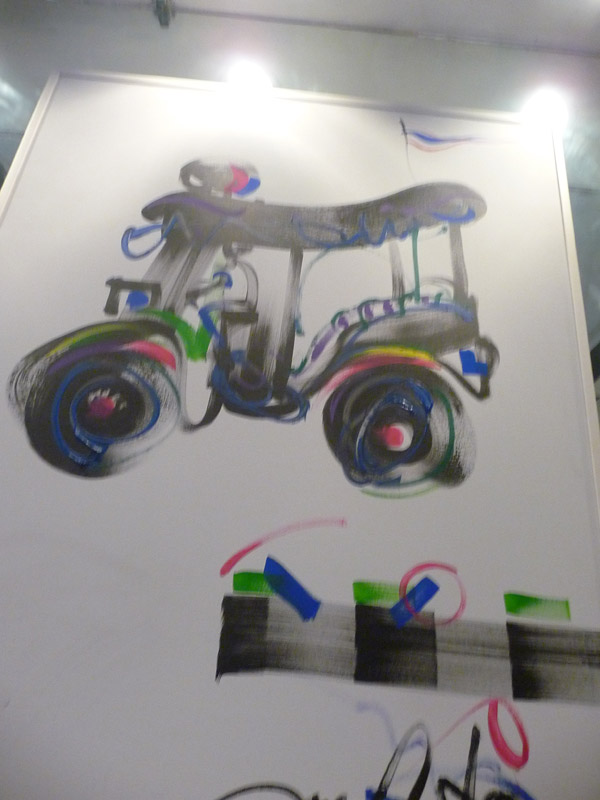 Tags:
Travel