Where old Bond movie was filmed.  Noted for the tall, jutting, hills out of the water, also now known for rock climbing.  25 years ago Natalie visited here when there were only a  handful of huts to stay at at the beach you see to the left.  Now the whole place is covered with places to stay and eat on the land in the middle there.  The right side is the East beach and left side the west facing-sunset beach.  Natalie couldn't believe the change.
In guide books, this beach is meant to be one of the most beautiful beaches in the world due to its cliffs from the land and also out in the water.
Hiking Adventures:  1) to caves – science day with the stalagtite and stalagmites and the calcification of water over time.  If you hit on the sides of the wall, different pitches were noticed due to the hollowness or density.
Hiking 2):  This was a wild adventure.  We were going to find a lagoon and it said it was only 500 meters in, but you had to climb and hike.  The hiking up and down cliffs would never be allowed in the US – too dangerous – the kids had a blast – some of the pitches were straight up – some ropes were provided – one still had to be very careful – on the climb up the hill, we thought that was tough – when we had to climb down to the lagoon – that was even more rugged and vertical – the walk in through the jungle  at the top was very impressive with fern, trees, etc.
The vertical climbs are hard to capture on film – kids enjoyed the challenge and "danger"
The Lagoon – is at sea level, must come from some underwater way, rises and falls with tides, there are fish in here )and we are talking about a lagoon in the middle of an island, great caves etc to explore in
Climbing Lessons:  Josh – looking across the bay (tide is out) is where many climbers take lessons or come to try different pitches.  This is were Josh climbed 4 different pitches
Sunset Snorkeling Day:  went on a 3 island snorkeling trip with hanging out at a sandbar between two small islands and watched the sunset and had a fish dinner out there. We then did one more swim at night to see the flouresants – Quite creepy swiming at an island at night, but if you swished your arms – low and behold the whole water in front of your face would light up with the flouresants – real cool.  By the end the girls were liking snorkeling – tough at first in big ocean, with nothing to put your feet on – at one spot you could feed the fish banannas – that was wild – Josh put the bananna in his mouth and hundreds of fish mobbed him to nibble at it.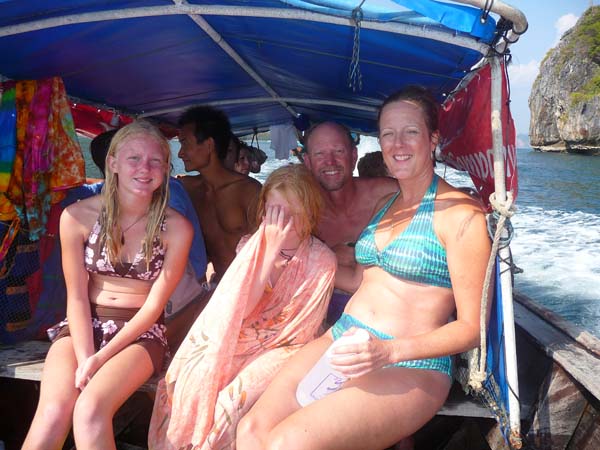 This island is called chicken island – I wonder why?
Tags:
Travel