I'd heard this can happen.  You spend day after day looking at one staggering set of Inca ruins after another.  Eventually they're not so staggering.  Such was the case for me today, sort of.  I visited the Pisac ruins, about 30km north of Cusco.  But rather than dwell on the physical structures, I found myself focusing more on the hike itself and the surrounding landscape.
I had a taxi drop me off at the top of the Ruins, situated very high above the town of Pisac.  And then I hiked all the way down.  The path had some pretty hairy moments, like the staircase with no railing and a lethal fall waiting for you on your left.
At another point I was hiking along a path with a wall on one side and a hillside on the other.
It wasn't until I later looked back, that I realized I'd been walking on a terrace.  With the brown grass long and overgrown, you can't see it when you're actually on the terrace.
Pisac was just a nice walk in the countryside.
On a side note, tomorrow morning I embark on my 5-day trek to the Choquequirao ruins.  It'll be somewhere around 62km round trip.  But the killer part will be day two, when we ascend 5,000ft in one day.  I'll have to earn my visit to this site.  So no blog updates until the evening of the 26th.
(I've included some photos of Cusco below, because most of what I've featured so far has been the rural areas.)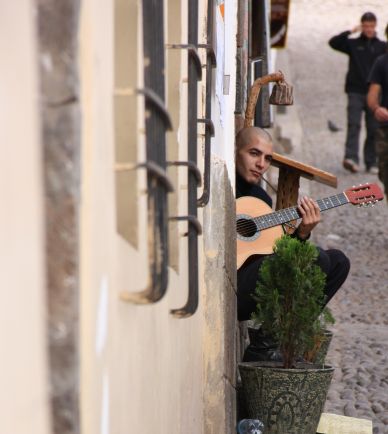 Tags:
peru