Thursday, January 18th, 2007
As you all know we went on a cruise to celebrate Hank and Madeline's 50th wedding anniversary. It was a lot of fun, we had a great time, did a little scuba diving and probably gained 10 lbs. Yes, the food was very good. I can't believe how big cruise ships are, they are just rediculas. When we were docked in Galveston we were as tall as the tallest building. And the ships go fast, I think the top speed of our ship was 23 knots. After riding the PGS Ramform boats 23 knots feels like a sports car. It was good to spend time together.

Our ship, the Carnival Conquest.

Madeline and Hank at the lifeboat drill. Safety first!

Ice carving demonstration. They have a lot of activities onboard so you don't get resteless during the time at sea.

Hank and Madeline on the first formal night.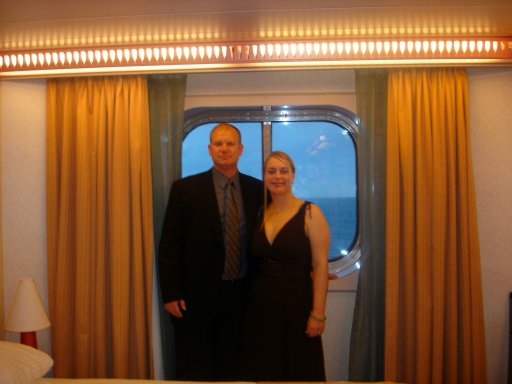 Dave and I on the first formal night.

Hank and Kirsten (formal night).

Our dancing waiter. Yes, they really keep you entertained.

Hank and Kirsten on the shore excursion in Jamaica.

Me, acting like a clown fish.

The anniversary couple!

Sharon and Bill, Tam and Doug, and Madeline and Hank on the anniversary night.