So after three and a half weeks in India I arrived in Johannesburg, South Africa and the first thing I did was to have a double cheeseburger! It was awesome! Not spicy and no vegetables in sight. I am definitely a carnivore. Johannesburg was a clean and pleasant city. I didn't spend much time there, but hopped over to the Balule Game Reserve which borders on the Kruger National Park. There are a series of "private" game reserves which share an unfenced border with the park, and they obey pretty stringent rules regarding the tourism and the animals. I stayed at Pondoro Lodge which was fantastic. On my four game drives I was able to see: Wildebeest, Cape Buffalo, Giraffe, Zebra, Warthogs, Jackals, Lions, a Rhinoceros, Elephants, Hyenas, Antelope, Gazelle, Impala, Eagles and monkeys. Four of the "big five" isn't too bad. The food there was definitely gourmet, five-star. The outdoor dining balcony overlooks the Olifant river and there was a mother Hippo and her very small baby hanging out one afternoon. Very fun to watch.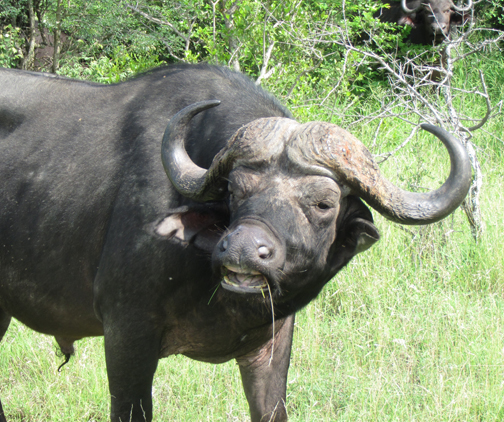 Coincidence continues to follow me. On the drive from the Hoedspruit airport to the lodge I shared the car with a couple of guys from Philadelphia. When I mentioned that I was from Orlando he told me a friend of his was going there to head a department of a new hospital (Nemours). It turns out that Mark is a pediatric CRNA in Philly. I had a great time in South Africa and now am on my way to meet Poe for safari in Tanzania. I need to spot a Leopard to finish off the big five.
Poe arrived and we are taking a short hop flight over to Tanzania and will start our Safari tomorrow. All is well.
Tags:
Travel