SO, after examining our rooms we were off to get food and drink! The best part of any vacation. We decided to go to the World Café, which is the buffet style restaurant. The Café was excellent. They had a large selection of food and drink and the staff was very friendly and attentive. We were pleasantly surprised for a buffet.
After dinner we visited an area of the resort which very much resembled a bustling native marketplace. There were tons of vendors selling arts and crafts as well as clothing, cigars…..all sorts of fun things! There were artist creating their works for people to see, and some of the formats they were using were pretty amazing. One artist used nothing more than spray paint to create beautiful landscapes of the Tulum ruins on tile.
We all decided to get henna tattoos from one of the vendors. We all got the same design. A Chinese symbol meaning 'enjoy oneself'. Check out the pic: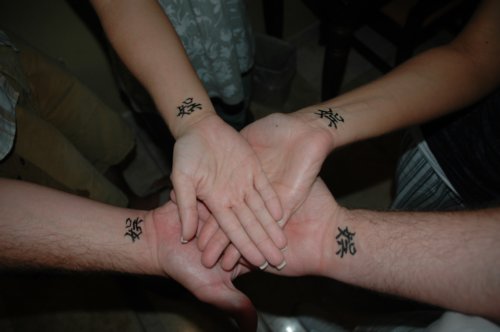 After the marketplace we decided to call it an early night. We went back to our room and were surprised by a basket of fruit and a bottle of champagne! They did remember the Anniversary request! However, at that point we were too tired to enjoy the fruit and beverages, so it will have to wait!
Ok…so a little note. The beds here are really hard. We're told that's typical for Mexico, but wow. I thought there was just a sheet on a board! But surprisingly we both slept fine! One other note, we have the squeakiest bed ever constructed by man. If you breathe too hard it squeaks. That makes for some challenging………activities:)
Tags:
Riviera Maya 2007
,
Travel