Thursday, December 29th, 2011
new zealand
arrived in Christchurch at about midnight and jumped straight on a shuttle bus dropping me off at the door of Kiwibase hostel. My bed awaited.
Next morning (Saturday) I had a walk down to the city centre: I had no idea that the destruction from and due to the quake was so bad: the town feels like a ghost town and the centre is completely off limits (apart from a bus tour at weekends apparently)
I walked around and took a few photos. Had a coffee at the new 'container' village: a new shipping centre made mainly from shipping containers with windows!: it works really quite well too!
I found a car rental company and did a verbal deal with the guy for a $40 car to be picked up the next day and with that I went back to the hostel – via a curry house….for maybe the worst curry in the southern hemisphere. Heyho
chatted to a Chinese girl that night, but had an early night due to the late night before
Sunday morning and off to the rental place for 9. a Nissan Sunny is mine for a week
I drove back to the hostel, packed and headed east along the Banks peninsula to Akaroa.
Fab drive over the tops with a great view into Akaroa harbour/bay – with a couple of cruise ships in there too
I booked into the Dolphin hostel and had a nice walk around the- packed- streets. I booked up for a jet boat ride around the bay and to the caves: turned out to be a lorra fun: very fast twin V8 boat and a handful of 180 degree spins in there for good measure
I was the only person in the hostel so got a bit bored ….treating myself to a pizza and couple of local beers to cheer myself up
Up at dawn, packed and now head north thru Christchurch to Kaikoura
…very rainy day and bla'ain a hooley too, so when I got to Kai, I quickly booked into the Fish Tank hostel and then settled down with a couple of the other guys to watch a DVD or 2: Old School and 40yr old virgin. Very funny movies and a good night to go with it
Next morning, Lars (German guy who had arranged the DVD's) had a chat and I decided to join him on a fishing trip! ….. after a couple of false starts we got sorted with a guy for an afternoon session: just me, Lars and a Chinese couple. Beautiful day for it – blue skies and very sunny, so we got down to the fishing – WITH ELECTRIC REELS!!
I tried a normal reel first, but in the 100m+ depths it was too much like hard work bringing the fish in: and we brought a LOT of fish in! mostly rock perch but also blue cod and Ray's bream.
twas a good day out. the skipper filleted out fish and packed them for us and gave us 2 Crayfish too. Back at the hostel, we boiled the crayfish and bbq'd th other fish and then fed us and at least 3 other hostellers! …another great night!
Next day, Lars, another German guy 'Tobes' and myself drove out to a short walk to a viewpoint up Mt. Fyffe. Not a great walk but it was fun anyhoo, then we dropped Tobes off to continue north hitchhiking and me and Lars went for coffee & cake…as you do.
Then Lars went for his bus north and I settled down to more photo taking at the beach. A quiet night with photoshop ensued.
Hanmer Springs was the next stop: quite a nice little ski village serving a cheap and tasty bacon and egg muffin and 'flat white', with a nice little hill at one end called 'Conical Hill' I walked up it and took some average photos
Back in the car I stopped off at a bridge over the Hanmer river and had another coffee whilst taking photos of the engorged river (recent very heavy rain) then it was Wet towards Greymouth…picking up Julien, a French hitch-hiker on the way.
I stayed at the Neptune hostel that night and chatted to a stranded biker (Ducati rider …say no more) and then Julien who also turned up at the hostel! had a bit of a chat with a Swedish guy (Gustav) too and heard him talking about the Copland track walk.
South next, to Franz Josef glacier town. I had a nice little walk to the glacier (more photos) and walked up the moraine at the side, then back in town I booked into the Franz Josef hostel…managing to get a whole 6 bed dorm room to myself for $25

I headed into the common room that night for some of th free soup and lo and behold…met Julien again! crazy!
I also booked up to do the Copland Walk the next day: its a 17km, 7 hour walk up a valley to the Welcome Flats hut and hot pools and then a walk back down again the next day.
Up early, I dropped my lappy and camera off in the hostel for safe keeping then drove to the start of the hike. It starts off with a baptism straight away as you have to walk across the glacial river before a great walk thru a rain forest along the river. Many bridges and wading's later, I arrived at the hut …in 4 hours and 55 minutes …very please with myself
I changed quickly and headed straight into the pools in front of an amazing view of snow capped mountains and glaciers …and a couple of canny avalanches thrown in for good measure!
…a little later more peeps turned up including Gustav the swede. We all dipped in the pools again then chatted in he hut as the temp dropped.
Up early and Gustav and I headed out before the threatened rain arrived……unfortunately, with only a few km to go, my calf muscle tightened up – which wasnt so bad, but I must have walked oddly to compensate as my knee started playing up too
I dropped Gustav off in Fox Glacier village and headed north across Arthur's pass to Arthurs Pass village, where I stayed at the YHA for the night…desperate for a hot shower I jumped in, only to find there wasn't any …..a bluddy cold shower ensued

More rain the next day and I headed East towards Christchurch to swap rental cars. The drive over the pass is fab: incredible views and a couple of great rainbows too.
As I got into the city, I rang a few rental companies eventually finding a car for $25 …instead f the $40 I was currently paying. They picked me up from my original rental company too, which was nice.
Another day in the city and with a different skyline too – they've demolished a lot of tall central buildings that were around only a week ago. After checking into a hostel that was run by an old guy and his Chinese wife I checked the net nad found that Harry Escott was running a boxerfit session in the city's Hagley Park that night …so I went
nice surprise to see Harry ….. and a funny old class with 91 peeps attending …despite it being DAMNED cold and bla'ain a hooley.
I had a chat with Harry and then he invited me to his wedding the next week-end!!!
crazy!
back to the hostel for some photoshopping and then an early night chatting to a strange south African woman in the bunk below me.
Up early (again) and heading south to Tekapo lake: a FABULOUS place: blue blue waters and amazing snow and cloud covered hills. Lots of photos (with Mount Cook in the background) and then a walk up Mount John to the Observatory cafe ….and a coffee.
Back down and I camped down on the shores of Lake McGregor, which was as close as I could get to Tekapo. a great place to camp …and more photos of Tekapo. Next day I headed down to Twizel where I shopped with crew from the Hobbit film, bought a couple of lush Danish style pastries and then headed further towards Mount Cook…stopping for a coffee and one of the pastries at the side of the road. Mount Cook is a little ski village nr the bottom of Mount Cook. I stayed in the campsite and walked part way along the Hooker valley track -but couldn't go further due to my ongoing knee issue. lovely view of Mount Sefton from the tent. good deed for the day was jump starting a guys car in the carpark.
Next day we headed down thru Twizel again to the sea at Omarou driving along Tyne street in the historic area, then continued south to Moeraki via the coastal route (and a chicken Caesar) Moeraki is a fabulous little fishing/tourist village with a beach holding metre diameter absolutely spherical rocks! …a bundle of the things lie in the mid tide area….making some canny photos
couple of beers there and a night amongst a plethora of rabbits and I was off north again to Christchurch, where I ought a much needed polarising filter for the camera and got a couple of T shirts printed (Boxerfit on the front and 'Doctor' and 'instructor' on the back) for Kim and Harry.
Checked into the Fish Tank hostel at Kaikoura again.
a short drive today back to the same cafe as before in Hanmer Springs…this time for poached eggs on toast ….then a walk up conical hill (to see if I could …poorly knee) then back down and waited for the wedding party……who climbed up on a different route! ..luckily I got there in time.
Great wedding ceremony and great to meet Kim and her family, then back to their rented house for the party …at which I ate and drank too much and eventually dropped happily into bed just before midnight. Next morning I was up before 7 – only to find the newlyweds already up!!!! and tidying!!! Eventually after tidying, brunch was made and some of yesterdays gusest reappeared for brekky and chat. Many of them giving me phone numbers to meet up or for stayovers, which was nice.
I left there a happy fella leaving a very excited pair of newlyweds getting ready for their 6 month honeymoon trip thru Asia. I meantime headed Wet thru Greymouth and then down to Fox Glacier staying in the holiday park there. a short walk to Matheson Lake and some lush photos from Reflection Island with a german couple.
Next day I was up early and walked to the glacier terminal (more photos) and then packed my tent and headed south via Haast pass (amazing scenery) to Lake Hawea where I camped for the night ….jump starting a couples camper after failing to get it started by pushing it – and towing it – around the site.
Today I passed thru Wanaka and Queenstown, to get to Te Anau where I booked camping for that night and then a dorm bed for the following night…and an early morning 6 hour kayak trip …………..IN MILFORD SOUND!!!!!!!!!
its 120km to MS from Te Anau and the first 80 or 90 km is nice but nowt special …..and then all hell breaks loose …AMAZING AWESOME scenery as you approach the mountains! …waterfalls everywhere, glaciers and impossibly step mountains. a mountain tunnel is included for good measure. Lots of stopping and photo taking …and jaw dropping. Eventually I made it to the Milford Sound Lodge and set up camp. Then I drove to the end of the Sound itself …BLUDDY HELL! ..its like a cartoon: someone drew a scene with every possible dramatic scene in it: 1800m almost sheer cliffs, 160m waterfalls, glaciers and lake …absolutely AWESOME!!!!!
A good warm nights sleep and then I was up at 5:15 ready for a 6-o-clock getaway in the kayaks ..except Jimmy (our guide) was late …so it was actually 6:30. Didn't matter though! …the sky was blue and the wind was blowing us along the sound, so we raised a sail and rafted along for a while, then after meeting up with a penguin, we took it in turns to paddle into the bottom of the Stirling 151m falls! ..repeatedly! …the draught, cold and pain was terrific! ..sooo much fun! …we crossed the Sound into the sun and then drank a sugary hot drink in the kayaks as we watched seals playing 2-3m from us on the rocks and in the water. Then we chased some dolphins and cruised right out of the Sound and into the Tasmin Sea …21km of kayaking! …I've never had so much fun for…..too long!!!!
We then got picked up in a taxi boat for the trip back to base. at base I opened up a bottle of champagne given by Harry at his wedding and we all drank to a great day.
I said goodbye to the Sound (twice as I had to go back to pick up some stuff I left in the kitchen!) and drove all the ay back to Te Anau where I celebrated with Eggs Benny and a flat white. Then headed all the way south to Invercargill and booked myself in to the Stewart Island Backpackers and an open ferry ticket across. by 6:30 I was in room 49 of Francoise's hostel and drinking the last beers from Harry.I had a little walk up to Observation Rock, but my knee is very bad on downhills, so no more walking for me on the island I think.
Early morning sent me off to Ackers Point on the peninsula from Oban town and some nice photos of the lovely scenery along the way.
Not much during the day (sitting in the sun doing Sudoku mostly!) then a walk at night to see the penguins (fail) and then for kiwi(another fail)
8am on Saturday and I was back at the ferry and on my way back to Bluff, where I had a drive up the hill viewpoint (nice) and then headed East towards the Catlins. After stopping at a lighthouse and some great bays and beaches I booked into the campsite at Porpoise bay. a trip down to Curio bay to see the petrified forest and a fleeting glimpse of the rarest penguin in the world – the yellow eyed.
back to the hostel for lunch then back to the bay again late afternoon ….eventually a penguin appeared out of the surf and I headed over, sitting on a rock about 30m from it – and waited. After an age of preening itself, it set off across the rocks….RIGHT PAST ME!!! within 2m!! got some nice photos too
Back to the camp and a short drive around to the village and some more photos and then back for a good nights kip.
A windy a grey day greeted me next: I headed NE and after stopping a couple of times I headed into Owaka's visitor centre, were the volunteers working that Sunday made me a coffee and chatted for an hour or so about nowt in perticklier. Though they did recommend he converted hospital which was now the YHA and backackers….so there I went: great old place which still has lots of fixtures and fittings from the hospital days…including beds. I pitched my tent, and headed into town for a sunday meal but as the weather worsened and there were no facilities in town for cash, I eventually paid for a dorm room on my card …..there wasn't anyone else staying at first, but eventually two other guys did. I posted on Fb saying I was gonna be in a hospital bed but the idea was to admit later how/why …unfortunately the net failed!!! …so I couldn't explain meself! ..lots of explaining to do the NEXT day! Anyhoo, had a bottle of wine with the owner and some cheese to eat, then photoshopped the day away
Another grey day greeted me so I drove slowly to Cathedral Caves – a great linked couple of caves and I caught them just as the tide released them from its grip. Very nice area…then I drove to Cannibal bay…no idea why its called that …not much to see there eiher. Next it was to Nugget point: great lighthouse right on the promentary leading to nowhere …..
Next it was to a coffee shop and a chat with some dutchees. Then off again heading to Dunedin…….or so I thought
In the middle of nowhere, the car overheated and I had to stop! …I hitched a lift off a woman back to town, filled my water contaner then hitched a lift from another woman back to the car. Filled the rad and off we went, getting to Dunedin without further issue.
Dunedin is a strange old place: great beaches, great peninsula and a kinda nice town – but VERY scottish/English! After an Eggs Benny lunch, I met a guy in the street cleaning his ZX6R race bike…turns out to be Michael Lee racing on plate 33 and came 3rd in the Superstocks at Invercargill street races. Nice old chat with the guy.Next I drove along the peninsula checking out the sights (very nice)
That evening I took a bottle of wine and some cheese to the beach, drank and ate then walked along the beach taking photos and then ran back …pulling a calf muscle en route!
Next day was cloudy but patchy sunny – until I drove along he southern shore and hit fog …which then raced me back to town. I shopped a bit and had coffee, then headed back to camp to eat lunch and photoshop. Another foggy afternoon had me in Smaill Bay for some more photos, then a quiet night back at camp …and a chicken wrap 'kebab'
Up early and head north to Christchurch (again) to get the car sorted out and extend the rental for another 15 days ,,…..and book the interisland ferry.
Unfortunately, the car overheated AGAIN heading north afterwards, and I had to stop at Cheviot town in a motel. A quick drive back to C'church next morning (car overheating JUST as I got to the rental place)and a swap of cars to a Mazda Delmio …horrible little car……but it doesnt overheat.
Back north again to Blenheim …very rainy day but managed to stay dry in the tent overnight in a holiday park.
Friday and a noisy morning – the site is near a road and a railway – and I'm off to Picton to change the car details on the ferry booking and then on the Queen Charlotte drive into the hills ….still raining though, so I booked into a DAMNED expensive hostel for the night. ($65)
Next morning I blasted straight back down (110km) to C'church …after filling with water again – I JUST got there as the car started to overheat again. They agreed I get a new car so I swapped into a VERY smelly Mazda Demio – at least it doesnt overheat…and the radio works! Straight back north again to Kaikoura and beyond, along the coastal route, stopping at Blenheim for groceries and to camp at what turned out to be a noisy campsite (next to a main road AND a train line!) still raining all day, but at least the tent was dry inside. Nelson is getting hammered by rain so there's no point in going on. I popped into Picton and changed the car details on the ferry booking and had a little walk around what appears to be a nice little place. Back to camp and an early night.
Back thru Picton next day and on to the Queen Charlotte scenic drive…which is exactly that: apart from the rain. Stopped at Havelock for coffee and then back to a turn off in the road that takes me into another Sound. There I found a $40 hostel (arent I the lucky one)so I booked in for 2 rainy days. Some nice scenery around, but cant see it for the rain and cloud!
2 days of not a lot later
and I returned to Picton, had an egg Benny brekkie and then a walk around ….in the rain. Then it was pinch some wifi time
…only to ifnd out I'm jus about broke! …bugger! ….feeling a little subdued I was first onto the ferry and commiserated with a coffee, which I drank on the front of the boat, ,checking out the scenery (the rain has stopped!) I also got chatting to earth mother 'Lucia' a dutch lady and spiritual person. She was canny so we spent eh ferry crossing chatting about earth and other matters of great import.
On arrival in sunny Wellington (YAY!!) I was first off the ferry and headed north up the west coast, eventuall stopping at a canny little camp site for the night.
After doing my laundry next morning and chatting to a woman from the Isle of Bute, I headed north again, thru Whanganui and to xxxxxxxxxxxxxxx
Mount Taranaki or Egmont is in the background, but covered in cloud, until evening, so I had a beachy walk then headed partway to the mount for evening photos. In the morning I headed around the mount a little to some falls getting some nice photos of the mount en-route (JUST clad in snow and with a whisp of cloud around the summit)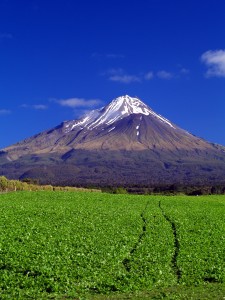 lovely walk down to the falls that morning and a great drive into yyyyyyyy listening to music on ANOTHER FM transmitter thingy Ive bought (so nice to have music tho) Then I continued on the 'Forgotten World' highway which is a fab drive over hills and dales generally with a view of Taranki in the background. I had coffee, cheese and biscuits at one 'saddle and after chatting to a travelling german, I then had a chat with a german pilot as we watched a few helicopters flying around (mysteriously)Onwards and upwsrds thru a fab gorge on a gravel road and then into ZZZZZZZZZ where I camped in a site run by a guy from Settle! A really good night ensued with a dutch couple, a yankee couple and a young german guy …and some free bbq food from a party that was ongoing. At 9 that night, the yankees, german and me went off for a drive to see the glow-worms in a fairly local abandoned railway cutting ….lorra laffs and a great sight – there were MASSES of the things!
Next it was on to Taupo – except I decided to do the Tongariro Crossing walk (that had been talked about a lot the previous night) so after booking a shuttle bus, I camped in QQQQQQQQ for the night. I met a dutch guy here who was also doing the walk, the next day: Bart.
Up at 5:30 brekky and pack a small bag and I drove off to the END of the walk to drop off the car, then was picked up by the shuttle, taking me to the START of the walk.
WHAT A FABULOUS WALK!!!! I set off at a canny pace as there were so many people doing the walk: I had to slow a lot at the climbs (poorly calf muscle still, meant I had to walk flat footed with my right leg) but I got to the bottom of LOTR Mount Doom in good time and chatted to a couple of yankee guys there, then off across Red Crater and nto the next climb where I got chatting to a couple from Blackpool…we walkd together to the high pooint of the climb and all decided to walk the extra bit to the summit of Tongariro
……one of the yankees joined us too. A nice walk left me climbing (properly) the last few metres after trying to take a different route to make it easier on my leg! At this point I realised how warm the rocks were (we're at 2000m I think) and there was steam coming out of the crater edge we were on. …I also had phone signal (eh!) so text Tucker back home to tell him where I was.
Back down to the crowds and on to Emerald lakes which were fab! (as was the steam vent just above them) I had a bit of lunch and then headed on by myself….however it was downhill now and my legs were both hurting – one from the calf muscle and the other from my knee. It was a long decent, but I got there in the end and headed across the carpark, only to be passed by the dutch coupld from the other night and then to see Bart on a shuttle bus. Bart joined me and I drove us back to camp, then to a supermarket to get supplies AND BEER to celebrate the walk (and a Boysenberry pastry) back at the ranch we shared the beers with a german girl in the 'lounge'.
Bart had told me about a hostel in Taupo which was cheap to camp in and was doing a bbq for christmas, so next day (23rd) I headed there. Got booked in, set up camp in the carpark, the headed down to the lake for photos …nice plce Taupo, I like it.
Nxt day, I went to the Huka falls and the craters of the moon geothermal area (very nice)When I got back to camp, Bart had arrived, so we headed to town to but food and beer and a secret santa prezzie. Then we went to the Huka falls and river walk for the afternoon. A good night in the hostel tha night (Xmas eve and a big day for the germans …..then we headed to town for a pub quiz: me, Bart, a swedish girl, german girl, irish guy and german guy. A good night was had and then I fell asleep.
CHRISTMAS DAY! I had a walk to the falls and river again, with Bart then back to the hostel for champagne breakfast (free) then messed about a bit beofre the free bbq! …great food! ..I like this hostel! Then we wandered around a bit before more beers in the hostel (though not for me) I rang me ma, to chat for xmas morning and then skyped her too (skype wouldnt work at first, typically)