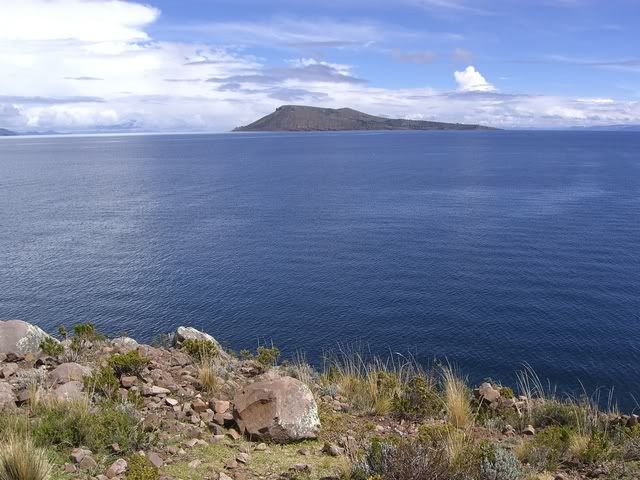 View of Lake Titicaca and other island from Taquile
A standard inclusion in the two day tour of Lake Titicaca is a traditional dance held on the island of Amantani with our local hosts.  I guess since there is no electricity they need a way to entertain the tourists in the evening…so a party is it.  We all got dressed up in traditional gear and headed off to the community center for some cervezas and dancing.  I've included a couple of photos from that (moderately cheesy) affair.  I especially like how the costume is worn over my cold weather gear…adding about 30 pounds to my person.  The tiny Amantani woman in the picture was my host for the night…Mariluz.  She was really nice and despite the fact I'm not especially crazy about dancing in my own clothes, in my own country to music I recognize…a good time was had by all.
Stacey, freezing her A-S-S off at the highest point on Amantani
The next morning we were off to another Quechua community on the island of Taquile.  People of Taquile speak the same language as those on Amantani but their dress is somewhat different.  Unfortunately on this island we needed to pay the people to take their photos and I was fresh out of small change so you won't get to see the differences.  Truly the greatest thing about Taquile is the absolutely amazing scenery.  I'm a little light on content today so am just going to post some of the great photos from Taquile and give you all a weekend break from the blog.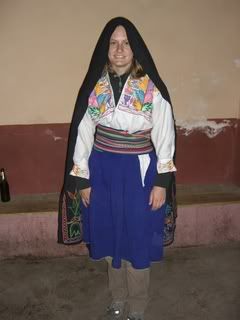 A good look for me, no?
Amantani dancers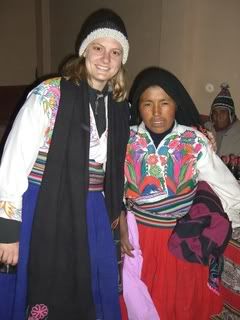 Me and my host Mariluz
As you read this I am likely in Colca Canyon touring around so pictures and tales of that trek are soon to come.  This week coming up is my last in Arequipa and the orphanage as I will soon resume my travels heading south through Chile and Argentina.  As always, the blog should pick up a bit once I'm constantly on the move.  Enjoy the photos and the weekend!  -Stacey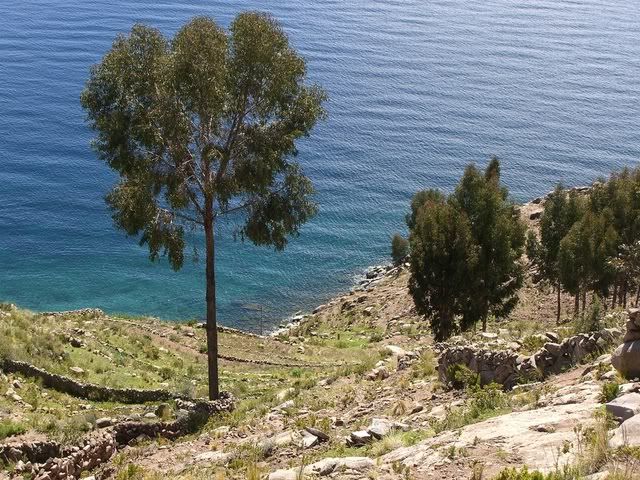 Tags:
9 - Peru
,
Amantani
,
Arequipa
,
Lake Titicaca
,
Taquile