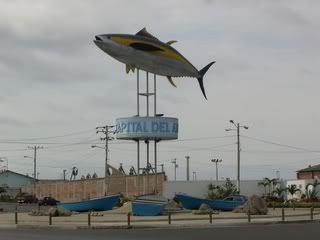 So, I was cleaning off the memory card in my camera last night and realized that I have several photos I haven´t posted yet…so this post is going to mostly be a random collection of pictures and their descriptions.  A poor excuse for a post of substance but oh well…I never promised the Extravaganza would always be substantive.   Bueno…
Above is a picture of my friend Karen (who you will be seeing again sometime around Christmas) playing the extremely intellectual game of "Try not to be the last person to blow the cards off of the bottle of vodka" game.  OK, I don´t know the real name but here in Ecuador they are crazy for their shots of vodka.  Now anyone who has been with me when I´ve had vodka knows this is a very bad thing for Stacey.  Fortunately, I´m quite skilled at this game…the object of which is to blow off only a couple of the top cards because the person who knocks them all off has to do a straight shot of vodka.  And we keep playing until the bottle is empty.  Dios mio!
Here are Ben and Nadine…an adorable couple from Germany who are here studying Spanish and in Ben´s case…planning to stick around for the rest of the year at which point he hopes to get into a University in England.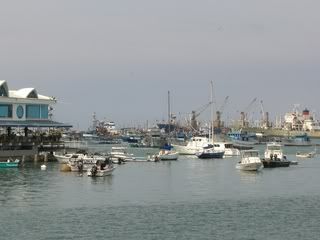 As you might´ve guessed from the first photo, fish (specifically tuna) is a significant export of Manta.  Above is a picture of the fishermen´s harbor with some of the larger fishing operations´ boats… 
…and across the bay…a picture of some of the smaller operations.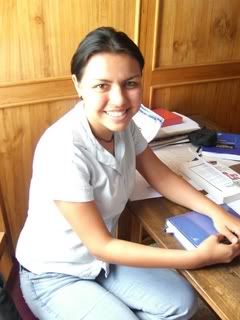 Here´s a picture of my favorite teacher, Christina.  Normally you switch teachers every week but I got lucky and had Christina two weeks in a row which is fortunate because this last week´s grammar was the subjunctive mood…a concept that barely exists in English and has no translation.  Fun times.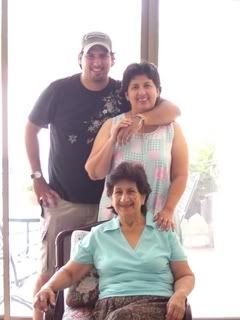 My family in Ecuador.  The lady in front is the grandma (whose name I never quite caught) but she comes to have lunch with us everyday since we have a maid that cooks.  Abuela (grandma) is 71 years old and has had 8 kids.  Camila is my Ecuatorian mom…she´s 54 and the man next to her is her son Gino, age 23.  Sorry about the bad light in the back…we took another picture without the background light but it wasn´t as cute so I´m leaving this one in.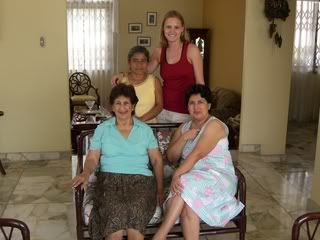 And here is a picture that pretty much sums up why I stick out here in Ecuador so much…I´m blonder, whiter and taller than pretty much everyone else here.  The woman next to me is Nelly the maid…oh my god is she short.  One day, I was standing in the bank and I realized that I was taller than every single one of the other 30 people in the bank.  But poor Wyatt…he´s  6´3″…the poor thing had a crimp in his neck all week from when we had to stand on the bus last weekend coming back from Crucita.  You see, the ceilings in the buses are a little lower than we´re used to…everyone on the bus had a good laugh about poor Wyatt´s plight however.
OK, that´s it for now…off for some post-class R&R in the beach village of Canoa.  I´ll be traveling for the next 6 weeks or so straight so hopefully I´ll be getting some good, blogworthy material.  Stay safe and warm!!
Tags:
8 - Ecuador
,
Ecuador
,
Manta