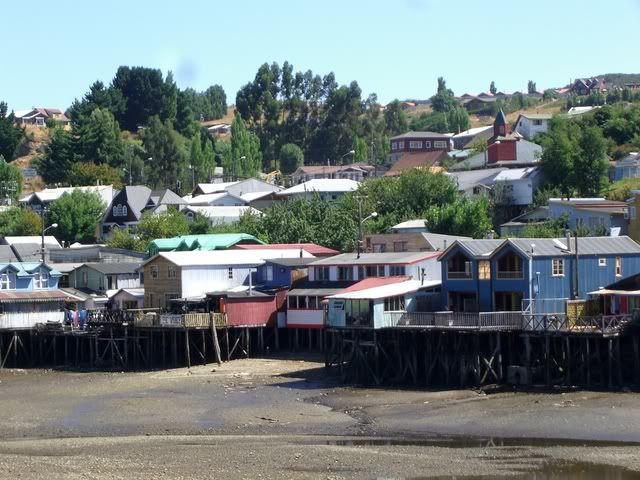 "Palafitos" of Castro…clearly at low tide
So apparently all a girl has to do to get a few blog comments is complain a little! Thanks to everyone who chimed in to let me know you're still reading…as the Extravaganza starts on its downward slide back to reality it gets harder and harder for me to sit in front of the computer and work on it. But for you, my faithful readers, I will continue to do so. And to those devoted lurkers out there (and I know who (some of) you are)…chime in once in a while…it's good to hear from people! And on the yellow lemon note…I had no idea the this issue would be such a big one but frankly, you don't know what you're missing until you don't have it anymore. (Don't worry Leah…they can make lemonade with the green ones too!) As E McC points out this lemon issue appears to be a symptom of tropical countries…near the equator? Who knows but problem solved as we are back in the business of yellow lemons.
So after departing the lovely port city of Valparaiso I was headed south…this time to the less-lovely port city of Puerto Montt which is the transportation hub for the offshore island of Chiloe. Puerto Montt is not much to look at and gave me a creepy vibe as for the first time on this trip the beggars got a little aggressive and grabbed my arm. Let's just say I'm not a fan of being man-handled…especially by a woman carrying a baby and yelling at me that I'm rich and should give money to her gypsy baby.
Needless to say I was quite happy to depart for Chiloe and after a 30 minute ferry ride from the mainland was delighted
to find a quaint island with lots of fishing communities and interesting architecture. In part because of its physical isolation from the rest of Chile, Chiloé has a very special architecture and local culture. The Spanish, who arrived in the 16th century, and Jesuit missionaries who followed, constructed hundreds of small wooden churches in an attempt to bring Christianity to a pagan land; the result was a mixing of Catholicism and pagan beliefs. These unique buildings have been designated a UNESCO World Heritage Site. Because of a lack of metal on the island, many of the wooden churches were originally constructed without nails but with only wooden pegs. Unfortunately, most of the original structures have been ruined over time…usually by fire but also by earthquakes and resulting tsunamis like the famous Valdivia Earthquake of 1960 that was the strongest earthquake ever recorded with a Richter score of 9.5. In addition to destroying much of Chile (including the worst damage in Validivia which is, incidentally, my next stop on the Extravaganza) the resultant tsunami occurred as far away as Hawaii and the Phillipines. Another feature of Chilote architecture are the palafitos (houses built on stilts over the water) examples of which I've shown above in the opening picture.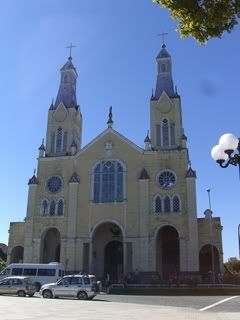 UNESCO church of Castro…originally a bright orange and purple but now it could use a coat or two of paint
…and in Ancud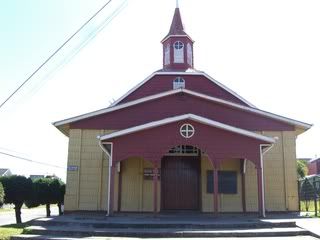 Also in Ancud…
UNESCO World Heritage church in Chonchi
The Island of Chiloe is a very interesting place to wander around if for no other reason than it is the antithesis of places like Santiago and Valparaiso. With a population of only about 150,000 on the whole island there are lots of open spaces and small villages to explore. I am again reminded, however, that rural places such as this (and others like Ireland and the white villages of Spain) are best explored in a rental car as it's tougher to reach the out of the way places via public transport. Plus, Chilean drivers are significantly more sane than those in Ecuador and Peru so I wouldn't be quite so concerned about loss of life or limb here in Chiloe.
In the forefront is the gigantic skeleton of a blue whale found in the bay a few years ago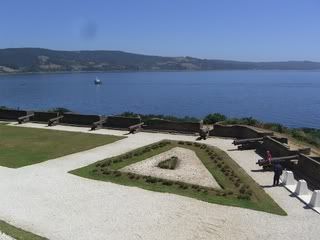 Fort San Antonio in Ancud
Dropping my backpack in the capital city of Castro I decided to take a series of day trips from that location. The first day I stayed within the city of Castro and wandered down to the market and the port to watch the fishing boats and have some awesomely fresh mussels in a green pepper/cilantro sauce. On Day 2 it was a quick bus ride to Ancud where the ruins of a Spanish fort exist as well as the nice beach of Arena Grueso. My last day I went to the fishing village of Chanchi where I finally got to taste what is allegedly the specialty of Chiloe. Having no clue what it was, I ordered the "curanto de hoyo" and this is what arrived:
Basically, a wooden basket full of shellfish, sausages and other meats. It was quite good though certainly not the absolute best thing I've eaten in South America (I think that prize is still going to the shrimp in garlic sauce in Crucita, Ecuador). And with that and a few more photos below I am departing from the Isla Chiloe and am again heading north towards the port city of Validivia near the lake district. Much more to come in the Extravaganza blog and as always, thanks for reading.
Playa Arena Grueso
Architecture of Chonchi…
…and here too. A 1910 house turned into a replica museum
Fishing boats in Castro
Tags:
10 - Chile
,
Chiloe