After a few hours at El Puente, we wanted to check out the snorkeling in Manzanillo. I was honestly pretty easy-going up until this point. I don't know what it was….

We got back to Banana Azul and asked about the buses to Manzanillo. They only run about 4 times per day (unlike Cahuita, which is every hour) and we were already hot so we didn't want to ride the bikes (about 15 km each way). James was ready to give up and said we probably couldn't go (it was around 12:30pm – not late!!!) and that's when it happened. I had a little breakdown. I just put my face in my hands, and the tears started pouring out. I don't know if it had to do with spending the morning with people who had SO LITTLE and I was getting worked up about not going snorkeling and then I felt guilty? I don't know. I can't explain it. I forced myself to just calm the eff down, and we called a cab to take us to Manzanillo. We borrowed snorkeling gear from Banana Azul and were on our way!
Manzanillo does not consist of many things. A restaurant, a soda or two, a souvenir shop, and a few teeny convenience stores. Someone told me that they are a daytime town. There is nothing to do there at night really, but many people come during the day for snorkeling. It was not crowded by East Coast beach standards, but there were definitely more people than we had seen on other beaches.
Jay and Andrea had already left for Manzanillo (on the bikes) by the time we returned from El Puente…so guess who we saw when we stopped in a store to get some water. JAY! We sat with them for a bit and decided that we'd take turns with the snorkeling gear. Andrea and I went first…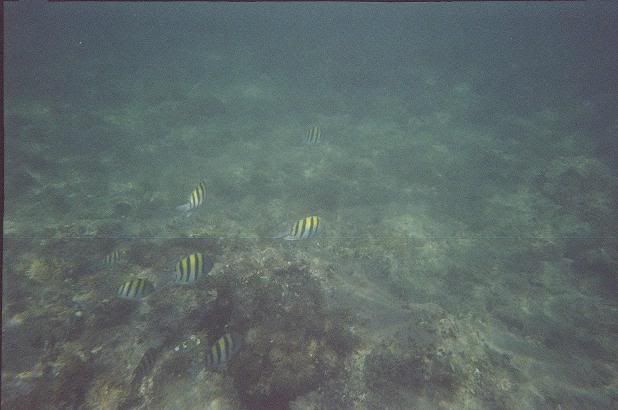 After we came back, Jay and James went in for a bit. When they came back, I went back out alone because I wanted to explore some more. I had so much fun just floating around and occasionally diving down to look at something closely.
We ate at Maxi's – the only real restaurant (that we knew of anyway). I ordered shrimp and James ordered lobster. They both came covered in onions and sauce…I was not a fan. At all. I ate it because I was really hungry, but I did not enjoy my food there. James really liked the lobster though.
I took a picture of the lobster w/the water camera (I didn't bring my digital) but it didn't turn out.
Here is the view we had from our table: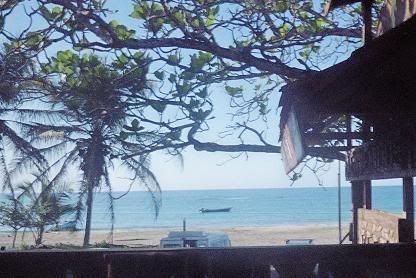 James and I asked our taxi driver to pick us up at 6:30, but it was only 5pm and we really wanted to go home. (Andrea and Jay headed out around 4:45 to bike home.) We tried calling his cell phone (he gave me his business card) but it kept going to voicemail. One of the guys at Maxis said he would keep trying for me. We saw the bus, so I ran up to Maxis and asked the guy to leave the taxi driver a message that we were just going to take the bus home.
The bus ride was great. And cheap.
We even passed by Andrea and Jay just out of Puerto Viejo which I thought was funny. We got home, relaxed a bit, showered, and when Andrea and Jay got back, we decided to later check out El Loco Natural for live music and dinner that night.
Tags:
Manzanillo
,
Puerto Viejo
,
Travel