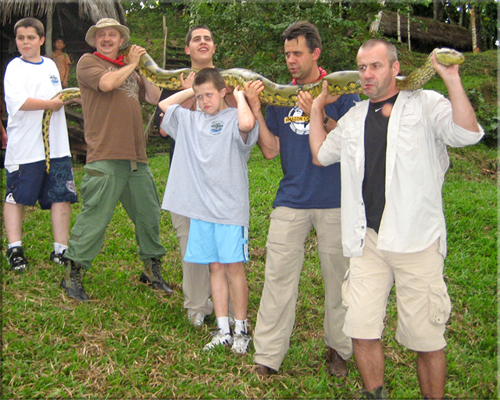 The anaconda could have strangled and eaten the youngest child, in the wild. We were on the banks of the Amazon River photographing a scene out of the Garden of Eden. This was an Amazon Cruise to the Triple Frontier. We stopped at Los Boas to handle snakes, very impressive snakes. The Red-tailed boa was beautiful.
We helped eight Polish adventurers. Their Amazon Challenge was an expedition from the source of the Amazon River in the Andes Mountains to the mouth of the Amazon at the Atlantic Ocean. Our job was to get them from Iquitos Peru to the border of Brazil, Columbia, and Peru, Tres Fronteras.
Next stop was an island full of monkeys. The monkeys were afraid of the giant eagle figurehead on our boat, Dawn on the Amazon III. The fear lasted 5 minuets before their curiosity took over, and they ran, jumped, tumbled, and played all over us. We could not get closer to monkeys. The children were not sure being close was good. Neither was I. One Woolley Monkey, determined to be the photographer, tried to take my camera. Monkey prints on the lens.
I like to stop in Pevas. My artist friend Francisco Grippa draws his inspiration from living and painting practically in the jungle. I am not an expert but I think Grippa is great. So did our guests. They purchased four large paintings for $10,000.
We visited a tribe of Ocainas indigenous. One of the young women had a Black-headed parrot perched on her head. Her breasts were partially covered by a string of Paiche scales. She was very exotic.
My favorite destination on this Amazon cruise is my secret fishing lake. I love that place. Some of my most memorable Amazon adventures are from there. It is where I held a baby Harpy Eagle in my hands, caught my first unforgettable Peacock Bass, lived and made friends in a primitive ribereño village for three weeks, learned more about the rainforest than any other place or time. We could not stay long. I did not want to leave, but I never do.
The triple frontier is not the place for me. On this Amazon cruise we lived on the boat for three days across the Amazon River from Leticia Columbia. It sounds better than it is. It is the Wild West, with too many cocaine smuggling pirates out of Columbia, which creates corruption and trouble.
This Amazon cruise from Iquitos Peru to the Triple Frontier covered 536.5 kilometers, one way.
To learn more of the details of this Amazon cruise to the Triple Frontier please read the full story on my Captains Blog.
I made my own version of the Amazon Challenge ten years ago. I never saw anything in Brazil that I liked as well as the upper Amazon watershed of Peru. The river gets too big. You can barely see the shore, not much wild life. Better to stay upstream in Peru.
I recommend an Amazon cruise to Pevas, and as far as my secret fishing hole. Spend as much time in those two places as possible, and then return back upstream to Iquitos. To learn how to build your own Amazon cruise please look at Dawn on the Amazon Tours and Cruises.
Adventure travel story and photos of an Amazon Cruise to the Triple Frontier by Bill Grimes. Let me know if I was interesting by subscribing to my RSS feed, following the two live links and/or leaving a comment…Thanks
Tags:
Amazon Cruise
,
Amazon River
,
Travel
,
Travel