The southern part of the park is closer to Johannesburg has better highways and seems to have more animals. Unfortunately this all means there are more, much more, people. Actually most visitors to the park never get as far north as Olifants, which for us was three days drive south from where we started. We are pleased we started up north because after a week in the wild, people just plain bugged us.
Getting off my soap box on the topic of too many people, the south is still very beautiful. There is far more water in the south, which is the reason why there are more animals as well. The drive from Talamati towards our last lodge Lower Sabi, again, was beautiful. We ran into large herds of buffalo, wildbeast, zebra, impala and more. We were able to get very close (maybe our safari skills were improving) and nailed great images of each of these animals.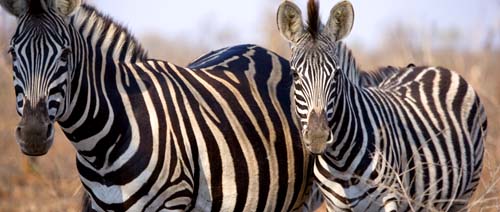 We pulled into yet another Don't Become Lunch Yourself, Lunch Spot around midday. It was like pulling into a McDonald's parking lot. Too many people (oh yeah, I said I was done with that bitching). We quickly ate and moved on.
We came across a traffic jam on another asphalt road and more lion. These were in a very bad position for photography so after a few minutes we bolted. Just outside of our next lodge at Lower Sabi there is a medium sized lake full of Hippo. Being our first opportunity to take some close-up Hippo images we sat and started shooting. One hippo was across the road, separated from the rest of the thirty or so others. He slowly started to move towards the road (and us) and into the lake. We however, were in the way and he didn't like that. Hippos open their mouth really wide to show you their teeth. This is their warning, as if to say I will use these if you want, so take a good long look. Hippos kill more people per year in Africa than any other predatory game. Not knowing this fact, we happily sat in his way and started shooting as many pictures as possible. Eventually he walked around our car and into the water. Thank you Mr. Hippo for the pose.
We drove to our new lodge, checked in and found our room. We were fortunate enough to find a coin laundry and decided to forgo a few hours of safari driving and do a much needed push to do our laundry. Two hours and clean cloths later, we made one last loop outside the gates to find more lion. Returning empty handed with two minutes to spare (and one of the gates already closed) we retreated into our protected world for dinner and sleep.
The next morning we were up before sunrise again for our last full day. We had a large loop of a drive in mind and headed out. We immediately came across some Warthog. These are very ugly but interesting animals. They also are great eating. They are very shy and it is very hard to get anything but a butt shot of them as they are always running away. This time, we rolled up next to them killed our engine and waited. As they grew comfortable with us they moved towards us and we started shooting away. If this is what it is like to be a National Geographic photographer, sign us up. What a rush when you get in the perfect position and make a great shot. We can see how wildlife photographers get addicted to setting up and watching animals all day long for just the perfect image. Seeing animals in a zoo is nothing like watching them operate in the wild.
Up the valley some more and a herd of Zebra let us approach their babies, Debbie fired at least 100 shots before we moved on. Our large circle of a drive found us pulling back in to the same McDonalds like picnic site of the previous day. This time it was a quieter and we set right to our picnic lunch before the crowds arrived. As we set up, a Vervet Monkey dropped from a tree and stole a green apple from in front of Connor. A few minutes later a larger one came to steal an orange which I fought him for. We had a stand off and he got pissed and started showing me his large teeth. He won.
A ranger came out after that and pulled out a slingshot. All he had to do was show the slingshot at the monkeys and they scattered. They knew. The problem is that people feed the monkeys and/or the monkeys steal food. Thereafter, the monkeys rely on picnic food not their normal diet. If they don't get it, they get aggressive with people at which point they have to be killed by the rangers. Bad cycle all the way around.
As we were finishing up (protecting our food all the time) the ranger asked if we had heard about the Leopard who was asleep in a tree back near our lodge at Lower Sabi. No we had not, but we were off in no time searching for the traffic jam we knew we would find. As we got closer to our lodge we started to worry we may have missed him, but a few more kilometers from where we thought he was we found the traffic jam.
There were cars everywhere. You couldn't get close. Somehow, I worked my way into the closest and best spot. Only a few people got mad at us. One Italian lady even called me a "bastardo"! Their problem not mine. The leopard was indeed asleep high up in a tree by the road. We sat for three hours waiting for him to come down.
Now would be a good point to praise the kids in their patience and overall behavior during this week. Though they had their moments (they are after all ten and eleven), they largely sat quietly, helped search for animals, talked in hushed voices, helped as much as they could, didn't bicker with each other and otherwise were as close to angels as possible. We were very proud of them. The three hour wait at the bottom of a tree while we waited for a Leopard to wake up and let mom get the perfect Leopard shot was no different.
The big cat finally did come down and we did get some good images. Though not book cover material. There is always next time (which after an outstanding week we are already discussing).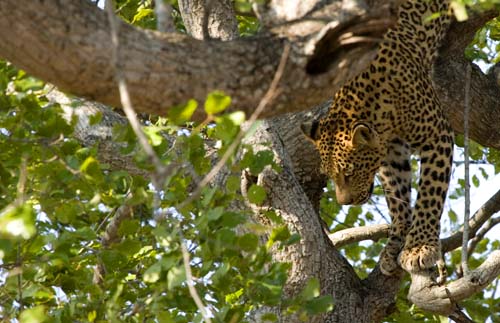 Back to the lodge, some more laundry and we were off for our last evening drive before we left. Overall, a quiet one which we enjoyed. A few more hippo shots by the front gate and we were back in for the night. We all slept well the final night, a little sad that this great week was coming to an end.
Not wanting to let it all go, we got up early, had our first hot breakfast of the week (had been doing cereal out of the back of the car all week) and left the final lodge. We had to be back to Johannesburg around 4pm to stay with some new friends at their house but figured we had a few more hours before we had to actually leave the park. We had an enjoyable drive but found nothing amazing until a few kilometers from the final gate. There for one last time was a lioness and three large cubs. Though the photography opportunity was limited, it was a great way to depart. As the morning began to close in on noon we knew our time was finished and snuck out of the Crocodile Bridge gate and onto the highway.
Wow. What a week. Kruger was more special and impacted all of us far more than we dared hope. The land, trees, flowers, insects, birds, animals, park facilities, people: everything were superlative. This is truly a special place on this earth. I cannot be sure when we will have the opportunity to return. We have had the good fortune to do a lot of traveling. Even before this trip around the world. Personally I have now been to 54 countries. I have had the good fortune to see many places and people. All worthwhile in their own way. But as a person who is always driven to see more, I rarely find a place that I want or need to return to. Kruger has become one of a very short list of places that we wish to return to. We recommend this trip for anyone. Just don't forget to invite us along!
Tags:
Kruger
,
Leopard
,
Photography
,
Safari
,
South Africa
,
Travel